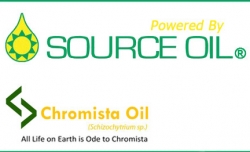 Mason, OH, March 14, 2016 --(
PR.com
)-- Source-Omega announces many new 3rd party DHA omega-3 supplement private labels approved to launch in the first half of 2016. Several of the new DHA products seek to benefit prenatal, pregnant and nursing markets in the USA, China and Singapore.
SOURCE OIL® is a water extracted DHA algae oil from Chromista (Schizochytrium Sp.). The new private labels help substantiate the value of SOURCE OIL, a registered brand of oil that powers product improvements.
"I'm proud to say water extracted DHA Chromista oil is pure, safe and gentle in every way," said Dr Scott Doughman, CEO and CSO of Source-Omega, LLC.
Starting with their capsule standard, 350mg DHA + 3.5mg EPA omega-3, the formulation is suggested to best fit World Health Organization standards for pregnant and nursing mothers. Additionally, the pure unblended high-strength natural DHA is featured in clear vegetarian mini-capsules. The formulation is claimed to be the first forever clear algae oil without risk of clouding, aggregations or particulates since it is water extracted and not solvent extracted.
"Perfecting the algae oil capsule was achieved by removing excipients and solvent processing for a forever best offering," said Dr Doughman.
Source-Omega is also private labeling its liquid DHA, their second proprietary formulation, for baby and mother. The liquid DHA will be used in three new branded products also approved for 2016. The company's liquid DHA is being distributed through over-the-counter and pharmacy-counter sales, made in the USA, cGMP.
"The organic lemon flavoring is also not solvent extracted. That makes our DHAlicious™ liquid supplement truly delicious," Doughman pointed out.
About: Source-Omega, LLC (http://www.source-omega.com) is the leading Chromista algae oil innovations company since 2007 serving the public health using a unique water extraction process, lowering prices and improving quality. Preformed DHA has also been defined in Source-Omega's publications to be safe and effective for adults at 1200 mg DHA/day for lowering triglycerides while supporting optimal cognitive nutrition. They defined 1200 mg DHA/day as a best practice for adults and showed how the liver can rapidly make EPA from DHA in just the right amounts (Doughman et al., 2013).