Galaxy Press Announces Battlefield Earth's Terl to Attend Silicon Valley Comic Con and Salt Lake City Fan-X Convention
Meet the greatest enemy that fans love to hate at the Silicon Valley Comic Con and Salt Lake City Fan-X Convention – Terl, from L. Ron Hubbard's Battlefield Earth.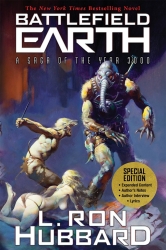 San Jose, CA, March 17, 2016 --(
PR.com
)-- From his opening line in the international bestselling science fiction novel, Battlefield Earth (
www.galaxypress.com
) by L. Ron Hubbard, that "Man is an endangered species," Terl has become one of the greatest enemies that fans love to hate. And now Galaxy Press has announced that Terl will be making his debut at the Silicon Valley Comic Convention and the Salt Lake City Fan-X Convention later this month. In a recent internet survey, Terl was deemed to be more evil than Darth Vader.
Made by Tom Spina Designs www.tomspinadesigns.com, Terl is a full form body suit and will absolutely stand out in a crowd. He will attend both conventions and has promised photos with any animals (his term for humans) so requesting at the Galaxy Press booth.
Silicon Valley Comic Con takes place March 18-20 at the San Jose Convention Center. Salt Lake City Fan-X Convention takes place March 24-26 at the Salt Palace in Salt Lake City.
Galaxy Press is about to launch a massive campaign featuring a new edition of Battlefield Earth with expanded content including never-before-seen author handwritten notes as well as a 47 ½ hour multicast unabridged audiobook, the biggest sci-fi audiobook ever produced, and all being released Father's Day 2016.
With 19 New York Times bestsellers and more than 350 million copies of his works in circulation, L. Ron Hubbard is among the most acclaimed and widely read authors of our time. In celebration of his fiftieth anniversary as an author, he again returned to the forefront of popular literature with his monumental epics Battlefield Earth and the ten-volume Mission Earth series. Together, these titles dominated international bestseller lists for 153 weeks, and still remain among the all-time classic works of modern speculative fiction.
Contact
Author Services, Inc.
Emily Jones
323-466-3310
www.galaxypress.com

Contact