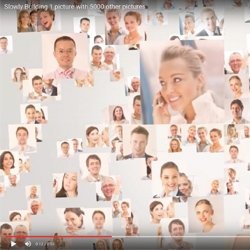 Veghel, Netherlands, March 22, 2016 --(
PR.com
)-- Making a photo mosaic shareable
The big social media websites don't offer a way to zoom in and out on really big images. So when a photo mosaic is shared on Facebook or Instagram the magic of it gets lost. The video option of EasyMoza solves this by giving the option to turn the mosaic into a video.
One free and three paid templates
EasyMoza offers one free template that has the EasyMoza logo in the outro. There are three paid templates. Two of those have the option to add your own outro. This is interesting for companies who want their logo to be faded in at the end of the video.
Occasions
A photo mosaic is often created as a gift but with this new video option it can also used to create an interesting social media post on Facebook, Twitter or Youtube.
Examples of the videos:
www.easymoza.com/video