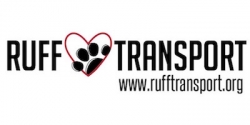 Dayton, OH, March 23, 2016 --(
PR.com
)-- Shoe donations will also support micro-enterprises in developing nations and reduce what goes into landfills.
Ruff Transport (rufftransport.org) is conducting a shoe collection drive on 15 Mar 2016 through 1 May 2016 to raise funds for much needed rescue transports for homeless animals in shelters or otherwise abandoned. This drive will earn funds based on the number of pairs collected as Funds2Orgs will purchase all of the donated goods. Those dollars will benefit Ruff Transport's mission to save lives. Anyone can help by donating gently worn used or new shoes at these collection points: Docton Animal Clinic, 10 Kinsey Rd, Xenia, OH; also in Xenia – the Xenia Senior Center, 130 East Church St; Xenia YMCA, 135 East Church St; and Xenia Shoe and Leather Repair, 21 East Main St; Stoney Creek Roasters, 85 North Main St, Cedarville, OH; Spring Shearing, 241 Xenia Ave, Yellow Springs, OH; Pretty Pooch Boutique, 90 South Main St, Waynesville, OH; and Pet Supplies Plus, 3320 Pentagon Blvd, Beavercreek, OH. Additionally, Ruff Transport will host a major collection event on 24 April 2016 at Pet Supplies Plus in Beavercreek, with several raffle prizes with raffle tickets distributed in exchange for shoe donations that day. They welcome and invite support via a remote broadcasting site to help them highlight this great mission and community support program.
All donated shoes will then be redistributed throughout the Funds2Orgs network of microenterprise partners in developing nations. Funds2Orgs helps impoverished people start, maintain and grow businesses in countries such as Haiti, Honduras and other nations in Central America and Africa. Proceeds from the shoe sales are used to feed, clothe and house their families.
"We are excited about our shoe drive," said Donna Ruff, Founder of Ruff Transport. "We know that most people have extra shoes in their closets they would like donate to us and help those less fortunate become self-sufficient. It's a win-win for everyone," added Donna.
By donating shoes to Ruff Transport, the shoes will be given a second chance and make a positive difference in people's and rescued animal's lives.
Local organizations interested in learning more about conducting a shoe drive of their own can visit Funds2orgs.com.
Contact: Donna Ruff
Ruff Transport
Phone: 937-321-9418
Email: rescue@rufftransport.org