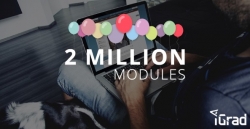 San Diego, CA, March 23, 2016 --(
PR.com
)-- iGrad announces that over 2 million online modules have been completed on its financial literacy platform as increased student engagement has led to a record rate of usage.
The learning modules are core to the program and support student learning with a broad range of highly relevant financial topics such as financial health, smart spending, credit cards and student loans. In addition to the modules, the
award-winning, adaptive learning platform
equips students with the tools needed to succeed in the real world of personal finance using games, videos, financial calculators, news and articles, social forums and the ability to chat with a counselor.
"Many colleges have promoted financial literacy initiatives like iGrad to combat rising student loan debt levels and improve student retention, but recently we are seeing financial literacy become more mainstream as schools are implementing these initiatives simply because it's the right thing to do," says Kris Alban, Vice President of iGrad.
"Budgeting and making wise financial choices now as students are important elements of a successful college experience. On the other hand, poor planning and lack of discipline can hamper timely graduation and lead to great struggles after college," says Jackie Diaz, Baylor's Assistant Vice President for Student Financial Services Strategy and Planning.
It all started in 2009 with a group of financial aid professionals who decided to tackle the alarming lack of financial capability among college students.
"Our sole mission was to empower this population to effectively manage their money, limit and repay their debts, and begin successful careers. With this milestone, we feel that we are making a meaningful impact," says Alban.
Today, the financial literacy platform serves over 1.2 million students across 600 schools and organizations around the country by providing a campus-wide financial literacy program that assists students in learning to manage (student) loans, understand the dynamics of affording a home, paying credit card bills, investing, budgeting and planning for emergencies. The platform also offers schools the ability to augment personal finance and financial literacy courses currently taught in the classroom.
Although iGrad's adaptive learning platform is the most comprehensive, interactive learning financial literacy web platform in the marketplace today (https://www.treasury.gov/resource-center/financial-education/Documents/Opportunities%20to%20Improve%20the%20Financial%20Capability%20and
%20Financial%20Wellbeing%20of%20Postsecondary%20Students.pdf#page=22), the education leader sees the opportunity to make an even greater impact through enhancements to its platform and based on its now rich source of usage data.
"By analyzing the usage data generated by these 2 million completed modules, we now have a deep knowledge and understanding of how our platform can have an even greater impact. And, we suspect what we have learned will impact online learning on a much greater scale in the future," adds Alban.
About iGrad: iGrad is privileged to partner with over 600 schools across the country to provide an industry-leading, customizable platform, which connects over 1.2 million students, as well as alumni and staff, with the tools needed to succeed in the real world of personal finance. iGrad is the only online community providing a comprehensive and customized financial literacy program featuring career assistance for students and graduates, user-specific financial education courses, and video-based student loan entrance and exit counseling. iGrad's accolades include: 2013 & 2015 Education Program of the Year, the Institute for Financial Literacy; Best Product of 2013, 2014 & 2015, University Business magazine; and Outstanding Consumer Information Award, Association for Financial Counseling, Planning and Education (AFCPE).