Military Contractor Gains Visibility and Control with Real-Time Shopfloor Control
Tennessee-based Tullahoma Industries has implemented state-of-the-art production management technology from Shopfloor Support LLC that has resulted in increased productivity, streamlined quality control and improved management control across its multi-plant operations.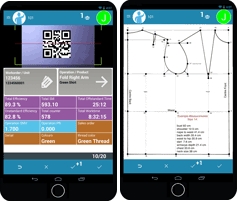 Alpharetta, GA, March 29, 2016 --(
PR.com
)-- Shopfloor Support LLC (
www.shopfloorsupport.com
), an innovator in wireless shop floor control (SFC) solutions, announces that Tullahoma Industries (TII) has successfully completed implementation of its advanced Shopfloor Eye™ data collection and real-time production control solution in its Puerto Rico manufacturing operations. The producer of military uniforms, thermal underwear and protective apparel reports that deployment of the system across two of its manufacturing plants, a centralized cutting facility and its Tennessee headquarters has led to a 5% increase in productivity, improved production line supervision, and overall process visibility and control.
According to TII Chief Executive Officer Richard Davenport, "Almost immediately, Shopfloor Support gave us a measurable improvement in individual and plant productivity. In addition to eliminating traditional bundle tickets and gum sheets, the system provides production workers with real-time feedback that helps them monitor and pace themselves to reach higher productivity and incentive earnings. Plant managers and supervisors have gained better control over production bottlenecks, quality issues and time and attendance issues. At the corporate level, it enables us to monitor results at multiple locations and the movement of goods from cutting through production, finishing and packing."
"While we have been interested in shop floor control systems for years, we did not find them accessible due to the disruptive installation requirements and cost of operation," added Davenport. "When Shopfloor Support came along with their wireless, tablet-based system, we found a solution that our teams found easy to use and maintain. We are continuing to deploy it across all our operations."
Shopfloor Eye represents a breakthrough in shop floor control by replacing traditional wired networking and proprietary terminals with Wi-Fi and standard Android™-based tablets to collect and report on production events immediately as they occur. In contrast to the traditional two-line display terminals that require workers to enter cryptic key codes on a numeric keypad, this next-generation SFC solution provides a full, interactive graphic display that operates with a tap or a swipe. In addition to production data, these tablets also display visual assembly instructions and enable workers to alert to any issue.
"We are pleased with the opportunity to help Tullahoma Industries achieve the business improvements they need to better compete and profit," noted Justin Hershoran, Partner at Shopfloor Support. "We are developing true partnerships with TII and our other diverse clients that will inspire our development for years to come and keep them ahead of their competition and fast-changing industry mandates."
About Tullahoma Industries
Tullahoma Industries is a cut-and-sew manufacturing business that also provides knit/woven converting services. Originally established in 1968 as Daun Ray Casuals, the company provides an assortment of products for both the commercial market and the U.S. Department of Defense. These products range from chemical protective garments, to the US Navy white dress jumper, to performance fleece products for a variety of companies. Tullahoma operates three domestic cut-and-sew manufacturing plants, and works on a commission basis with its mill partners to provide converting capabilities in knit/woven fabrics. Learn more at: http://www.tii.us
About Shopfloor Support LLC
Based in Alpharetta, Georgia (USA), Shopfloor Support was formed by a team of information technology innovators, manufacturing process experts and technology support professionals to create next-generation shop floor control solutions for soft goods and other discrete manufacturers. The result is Shopfloor Eye™, a simple to use and affordable real-time production and payroll data collection, worker feedback and plant management system that helps manufacturers increase productivity, improve shop floor control, and monitor other key performance indicators across the production floor. For more information, phone +1-323-787-7678 or visit the website at: http://www.shopfloorsupport.com.
Contact
Shopfloor Support LLC
Justin Hershoran
323-787-7678 ext 11
www.shopfloorsupport.com

Contact