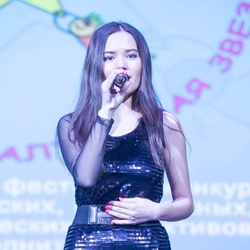 Almaty, Kazakhstan, March 28, 2016 --(
PR.com
)-- On February 20-21, performers from several countries descended upon Novosibirsk, Russia for the 43rd International Festival-Contest of Children, Youth, Adult on-stage Performance Groups and Singers Competition. A few weeks prior to the competition, Nursulu Shaltayeva, a gifted vocalist from Almaty, Kazakhstan, heard about the competition and decided to try her luck in competing because she had never before entered an international vocal competition. While pondering the idea of whether or not to enter, one of her friends suggested she enter the competition in 2 categories. She had always been a pop singer but while performing in the United States, she was involved extensively in Jazz singing, as she was one of the featured vocalists of a performance group. Nursulu told us, "When I was working in Chicago and Los Angeles, I had the opportunity to sing with some great African American jazz musicians and performers. I rehearsed for several weeks with one of the groups I performed with and this opened my eyes to some of the great Jazz music of the past and gave me the opportunity to sing some of this music with real jazz musicians." Nursulu was a bit nervous at the thought of entering an international singing competition in 2 categories, but she has was confident in her skills with both pop and jazz music.
On the night of the competition finals, Nursulu's moving renditions of the old Jazz standard "At Last" and Beyonce's "Listen" wowed the festival audience and impressed the distinguished judges enough to select her as the winner in both the Jazz and Pop categories. This is the first time a singer has won 1st place in 2 separate categories of this international competition.
Nursulu comes from a very musical family, as both her parents are professional musicians/singers. Her roots brought her into performing professionally since she was 5 years old. While performing in Almaty, her talent caught the eye of American record company executives, who have secured her appearances in feature films, live performances and studio recordings.
Nursulu is currently a recording artist, signed to a multi-year deal with UpOrDown Entertainment Company and has been writing and recording new material for an upcoming album release.
www.facebook.com/nursi