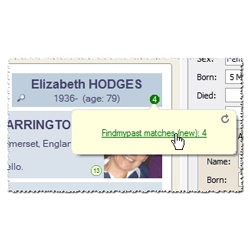 London, United Kingdom, April 03, 2016 --(
PR.com
)-- "Automatic record matching is a very popular feature of Family Historian," said Simon Orde, CEO of Calico Pie. "It makes the process of finding historical records for the people in your family tree considerably more enjoyable and easier. Now Family Historian users can use this same feature to automatically find matching records in Findmypast databases. We are delighted to be working with Findmypast, one of the leading data providers for genealogists. It's great news for Family Historian users."
Annelies van den Belt, CEO of Findmypast agreed: "We are delighted to be partnering with one of the world's leading providers of desktop genealogy products. Findmypast's heritage and rich record collections coupled with Family Historian's sophisticated technology will make for a powerful combination, enabling us to offer customers new and improved ways of unlocking the fascinating stories within their family. At Findmypast we are committed to making family history as easy and as rewarding as possible, not just through new records but also through new technologies. Together with Family Historian, we can provide a dynamic family history experience that offers customers the opportunity to make a real connection with their family heritage."
The new version of Family Historian, 6.2, is a free update for all version 6 users. To learn more about automatic record matching – also known as Automatic Internet Data Matching – see www.family-historian.co.uk/aidm.
About Findmypast
Findmypast (previously DC Thomson Family History) is a British-owned world leader in online family history. It has an unrivalled record of online innovation in the field and 18 million registered users across its family of online brands, which includes Lives of the First World War, The British Newspaper Archive and Genes Reunited, amongst others.
Its lead brand, also called Findmypast, is a searchable online archive of over eight billion family history records, ranging from parish records and censuses to migration records, military collections, historical newspapers and lots more. For members around the world, the site is a crucial resource for building family trees and conducting detailed historical research.
In April 2003, Findmypast was the first online genealogy site to provide access to the complete birth, marriage, and death indexes for England & Wales, winning the Queen's Award for Innovation. Since that time, the company has digitized records from across the globe, including major collections from Britain, Ireland, Australia, and the United States. Findmypast, in association with The National Archives, recently launched the 1939 Register, a record of 41 million lives on the eve of World War II.
http://www.findmypast.com
About Family Historian
Family Historian is a powerful, desktop genealogy program for Windows. It has frequently come first in group comparison tests of top genealogy programs, including emerging as the group test winner in the last two comparisons tests performed by Which? Computing. It has won a Top Rated Genealogy Software award every year for the last five years from GenSoftReviews. It recently won an award from Your Family Tree magazine in a review that heaped praise on the program, concluding: "The crown for best PC software belongs to Family Historian 6 for 2015!"
Family Historian 6 runs on Windows 10, 8.1, 8, 7 or Vista. It is published by Calico Pie Limited. For more information, please contact us.
Tel: +44 (0)7804 378986
Email: info@family-historian.co.uk
Web: www.family-historian.co.uk
Address: Calico Pie Ltd, 7 Effingham Road Lee, London, SE12 8NZ, United Kingdom
This press release can also be viewed at http://www.family-historian.co.uk/fh-adds-hints-for-findmypast