18-Wheeler Case Settles: Deadly Crash Caused by Sleep-Deprived Trucker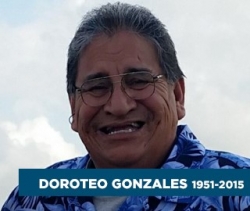 Webb County, TX, April 05, 2016 --(
PR.com
)-- A lawsuit filed in the death of a Sinton man and two seriously injured passengers against Texas Premier Resources, LLC, has settled, announced attorney Billy Edwards of the
Edwards Law Firm
, Corpus Christi, TX. The deadly chain-reaction crash was caused by a sleep-deprived 18-wheeler driver, according to police records.
Doroteo Gonzales, 63, was killed and three others were seriously injured in the crash on State Highway 80 in Karnes County at about 7 a.m. on Jan. 6, 2015. The crash began when Marcelo Rodriguez, 50, driving an 18-wheeler owned by Texas Premier Resources (TPR) LLC, struck the back of a trailer being pulled by a pickup, sending the mangled pickup and trailer onto the path of a tanker truck driven by Gonzales, Edwards said.
"According to our evidence, Rodriguez had slept between 17 and 19 hours in the four days before the crash, and approximately four hours in the previous 24 hours," Edwards said. "By pushing drivers to exhaustion, TPR was just as responsible for my client's death as the driver, and now has been held accountable," he said.
The Texas Department of Public Safety's (DPS) fatal crash investigation revealed that Rodriguez, after driving 11 hours, had napped across the truck's front seats with an ice chest in the middle for about four hours prior to the crash. The DPS report concluded the crash was caused by Rodriquez' fatigue. DPS also cited him for failure to control his speed.
TPR, headquartered in Houston, has a history of hours of service violations, according to the lawsuit. Edwards said documents showed the company had been audited by DPS at least three times:
· In 2011 after a fatal crash
· In 2013 after a complaint
· In 2015, prompted by Gonzales' death.
Additional lawsuit defendants Jesus Mata, driver of the pickup involved in the crash, and Raider Services, LP, which owned the pickup and employed Mata, also settled, Edwards said. According to the lawsuit, Raider Services, LP, failed to ensure Mata possessed a commercial drivers' license, and Mata failed to ensure the trailer's tail lights were working.
The case is Cause No. 2015-CVT-00080648D-1 in 49th Judicial District Court, Webb County, TX, Gonzales, et al v. Texas Premier Resources, et al.
Contact
Special Audience Marketing
Teresa Kelly
512-328-4276
specialaudience.com

Contact