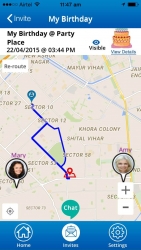 New Delhi, India, April 08, 2016 --(
PR.com
)-- Trying to coordinate with all friends to meet at a single place has always been a cumbersome, and time and effort intensive affair. Challenging the status quotient, the team at Adris Infotech Pvt. Ltd. came up with an innovative invitation maker application and christened it Map My Meet. Available at Google PlayStore and Apple App Store, the mobile application empowers individuals to invite multiple users for any meet up or event conveniently and promptly. More importantly, the users do not need to shell out a single penny to download or use the app.
With the intent to offer insight into Map My Meet, one of the Director at Adris Infotech recently stated, "Individuals intending to meet friends, relatives or colleagues, have to communicate a plethora of details, such as venue with directions, date, time etc. Generally, they employ a messaging app, email or phone calls to achieve communication. However, the caveat is that the driving directions are not clear and hence the situation calls for repeated reminders. Additionally, the individual has to resort to multiple messaging for coordination. This is exactly the pain which our app is striving to eliminate."
With a creative yet effective idea of a secret code, Map My Meet allows for a seamless, discrete and pleasurable experience. Secret code is a password that users have to create e.g. mic@1, for their event. Contrary to the time consuming multiple messaging and repeated phone calls, this takes less than 60 seconds. Thereafter, they can share the code with friends via messaging, email, phone calls, or by word of mouth if the meet up is exclusive. The friends have to enter the code in Map My Meet - Invites page, to access the private invite with live directions to the venue, date, time and a reminder.
Shedding light on the Map My Meet's secret code on offer, the executive further stated, "For coordinating travel or estimating ETA of friends, the user can share his live location and access driving directions in the same map. The mapped invitation app comes with a chat feature, which is also present in the same screen to complete the communication. Venue selection is vital for a seamless and pleasurable meet up. With recommendations on coffee shops, restaurants, malls and hotels in close proximity with the user's location, Map My Meet facilitates better meet up selection."
The mapped invitation app allows user to take advantage of GPS navigation feature for coordinating meet-up location with specific people they meet regularly, such as friends from work, team mates, or distant cousins. Featuring an intuitive interface, Map My Meet is a pleasure to operate. On opening an invitation, any invitee can access detailed driving directions from their current location without much effort. Therefore, those looking for an invitation app for mobile https://www.mapmymeet.com/invitation-app can trust Map My Meet.
About Map My Meet:
Map My Meet is a mapped invitation app from Adris Infotech Pvt. Ltd. for mobile and cellular devices. The app is scaling the ladder of popularity thanks to its ability to allow users to communicate detailed invites to multiple users simultaneously. Featuring an easy to use interface, Map My Meet also allows the user to share the driving directions https://www.mapmymeet.com/ on a real-time basis. So, those who want to download navigation app on mobile http://www.mapmymeet.com/homes/download, should look no further than Map My Meet.
Contact Information:
Map My Meet
Email: contact@mapmymeet.com
Website: www.mapmymeet.com
Youtube: https://www.youtube.com/watch?v=iY8d7mcj7D0
Google Play : https://play.google.com/store/apps/details?id=com.mapmymeet.act
iTunes: https://itunes.apple.com/us/app/mapmymeet/id934303313?mt=8