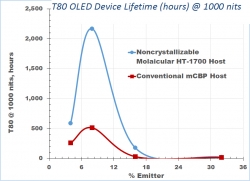 Rochester, NY, April 08, 2016 --(
PR.com
)-- Thursday April 7, 2016 at LOPEC 2016 Conference in Munich, Germany, Molecular Glasses, Inc. CEO and Founder Michel (Mike) Molaire shared the results of an OLED device benchmarking experiment funded by the U.S. Department of Energy (DOE). The 96 prototype device experiment was recently completed at the DOE approved laboratory OLEDWorks in Rochester, NY. A head-to-head comparison of Molecular Glasses NONCrystallizable™ materials with the state-of-the-art phosphorescent host mCBP demonstrated a lifetime improvement of up to 1,500% with external quantum efficiency of 20% and minimal luminance roll-off. "We have been promoting the promises of our materials for the past year. Today we are starting to deliver on these promises," said Molaire. These results are significant and will have a big impact in the industry, and we anticipate further improvements with material and device optimization. This data has recently been communicated to potential customers and the response has been extremely positive. Evaluation samples are available and purchase orders are expected in the near future. If your company has interest in our materials and our technology, please give us a call.
About Molecular Glasses, Inc.
Molecular Glasses, Inc. is a supplier of patent pending materials to Original Equipment Manufacturers (OEMs) of Organic Light Emitting Diodes (OLED) for use in displays (cell phones and tablets for example, and specialty lighting. These materials will enable OEMs to produce OLEDs with longer device life, higher light output, lower power consumption, and reduced manufacturing costs. This new class of materials is fully compatible with both the current thermal/vacuum deposition manufacturing processes and the emerging printing manufacturing processes (ink-jet, roll-to-roll, etc.). Molecular Glasses will derive revenue both from the licensing of patents and the sale of materials. www.molecularglasses.com
Molecular Glasses™, NONcrystallizable™, Molaicular™, Molaicular Inside™, ISOmeric™ are trademarks of Molecular Glasses, Inc.