Virun® at Ingredient Marketplace, Patent Grant in S. Korea, New Product Launches, Debut of Lightbulb Virun T-Shirts, and Webinar Controversy
VIRUN® plans on taking Orlando by storm at Ingredient Marketplace, where Virun's Esolv® technology will take center stage, and Virun's unique Omega smoothies and beverages will be available for sampling. South Korea granted Virun yet another patent protecting its unique technology. Virun launches new products and a new t-shirt. Virun's latest webinar, "Inside Virun," sparks controversy, and provides new business opportunities.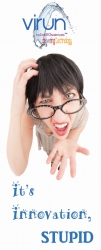 Pomona, CA, April 12, 2016 --(
PR.com
)-- April 12th, 1961 marked an important step in human history when Russian cosmonaut Yuri Gagarin became the first human in space. 55 years to the date, Virun boldly goes where no man has gone before with new patents, new exhibits and products launching faster than a rocket ship to space.
Virun to exhibit at Ingredient Marketplace in April.
It's East Coast meets West Coast when Virun ventures to Orlando, Florida for Ingredient Marketplace from April 27 to 29, 2016. "Let's see," contemplates Philip Bromley, who will attend, "sunshine, oranges and Walt Disney. Except for the alligators, bugs, and lack of surf, it's just like home." Virun can be found in Booth 035, where its' innovative Esolv® technology and stealth delivery systems will be explained and samples of popular Omega smoothies and beverages will be available for tasting. Look for the banner that truly stands out in a crowd. But, "don't be offended," quips Philip, "it's just innovation speaking."
Virun receives grant of yet another patent application, this time in South Korea.
Virun just received word that South Korea Patent Application No. 10-2012-7027534 has been granted. This patent, entitled "Nanoemulsion Including Sucrose Fatty Acid…," pertains to a nanoemulsion utilizing a sugar fatty acid, which is used to deliver oils and fats into clear dissolving emulsions.
Virun launches new products and a new, "enlightening" t-shirt.
Virun has a lot going on these days, including a new PCR Hemp Extract Beverage, more Omega Smoothie products for release, Lactoferrin-bound probiotics and more. The new beverages will hit the market in the second-half of 2016, and, similar to other Virun collaborations such as Dr. Jekyll's Organic Craft Beers, Canna Energy and others, Virun anticipates being able to release the brand-names of the new products. In addition to the beverages and supplements cooked up at Virun's R&D facility Pomona, CA., a new Virun t-shirt is also on the production line. Virun's latest addition to its trendy t-shirt line features an 'Edison-esque' lightbulb, which is evocative of the concept of new ideas firmly embraced by the company. The lightbulb, which adorns the front of the shirt, holds the shape of a hand in a "victory" or "peace" sign, and provides the shape of the letter 'V' in the company moniker. The back of the shirt features a singular drop of oil, filled with gears. The shirt itself is a sand-colored cotton, and gives the impression of being both classic and edgy at the same time. Philip Bromley, the t-shirt designer, states the shirt can be purchased at Virun's website on their "Shop Virun" page, but that "only those who are not cool can purchase the shirt, because being not cool is, well...cool."
Inside Virun highlights unconventional environment; entertains, confuses, and educates.
Philip Bromley's latest webinar caused quite a commotion in February when Philip took the path less traveled and used some unconventional methods to showcase Virun's new facility in Pomona, California. Inside Virun – Manufacturing the Next Generation of Supplements, Foods and Beverages, used, among other things, a lengthy disclaimer about stupidity, a story about a freak of musculature, and huge finger stuffed up a nose to entertain and educate attendees about Virun's capabilities. A few people seemed thrown by Mr. Bromley's brand of humor. "The culture nurtured by Virun is certainly avant-garde, and this can take the uninitiated by surprise," stated Wadah Alhassen, Quality Control Scientist at Virun's R&D facility, "but that creativity and willingness to take risks is the cornerstone of our growth. Without it we would lose the ability to innovate." Indeed, it seems that although the webinar caused consternation among some viewers, the attention gained justified the means. Alhassen stated the phones have been ringing off the hook since Inside Virun went live, and multiple new projects are in the pipeline for launch this summer and fall. Virun appears to be unorthodox, but according to Alhassen, in a world of huge, homogenous, corporate powerhouses, a little unconventional wisdom may just be the ticket to differentiation and success.
About VIRUN:
We are a Nutra-BioSciences® company formed in 2003 and headquartered in Pomona, CA. We emphasize the safe and efficient delivery of pharmaceuticals and nutrients to the human body through use of our patented and patents-pending technologies. VIRUN's pharmaceutical and dietary supplement technologies allow improved bioavailability through nanotechnology and Transferrin conjugation that target specific cells within the body. Additionally, VIRUN's Esolv® and DPtechnology™ allow water-insoluble nutrients to be clear, water-soluble and stable in food, beverage and supplement applications. VIRUN's innovative solutions and brands include Omega-3 EPA DHA branded as OmegaH2O®, Resveratrol, CoQ10 branded as CoenzymeClear® , Astaxanthin, PQQ branded as PQQwater® , Lutein, Phytosterols and Curcumin. Virun is a fully integrated research and production facility with manufacturing in California and finished product processing also in California.
Contact
Virun, Inc.
Nina Parker
909-839-0629
www.virun.com
customerservice@virun.com

Contact
Multimedia
Download and be the first to see Virun's all new product line up for 2016 that will premier at the upcoming Ingredient Market Place expo in Orlando, April 27-29, 2016 • Orlando World Center Marriott • Expo Hall April 28-29. They are at booth 035.