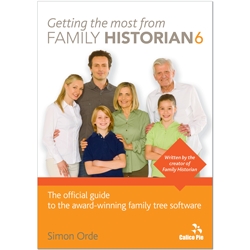 London, United Kingdom, April 12, 2016 --(
PR.com
)-- Simon Orde, the creator of Family Historian and CEO of Calico Pie, is the book's author, and spoke about it: "Family Historian is a very feature-rich program. Few people use it to its full potential. Many people barely scratch the surface of all the features that it offers. That's where a book like this can be very helpful. The idea is that even if you just skim through it, you should be able to easily pick up ideas of things that you can do with Family Historian that you probably hadn't even previously realised are possible. It's packed with screenshots and illustrations, and there are many great hints and tips, which make the program quicker, easier, and more enjoyable to use. The book is designed to be suitable for both beginners and advanced users. You can treat it like a reference manual, to dip in and out of, if you want to; but of course you can also read it straight through like a book. It works either way."
The book builds on earlier versions, but is also a major reworking of those earlier versions. The goal was not just to bring the book up-to-date, but also to improve it substantially throughout.
Browse Preview Pages
Front cover
Contents, Introduction, & part of Chapter 1
Part of Chapters 13 & 14
Back cover
See http://www.family-historian.co.uk/store/gtmfh6#preview
Purchase Options
Getting the most from Family Historian 6 is available for purchase from Amazon.com in the U.S., from Amazon.co.uk in the U.K., from selected genealogy suppliers, including Gould Genealogy in Australia. See www.family-historian.co.uk/store/gtmfh6 for more details.
Book Details
Paperback: 243 pages
Publisher: Calico Pie Limited (March 2016)
ISBN: 978-0993542701
Product Dimensions: 29.7 x 21 x 1.3 cm
Language: English
About Family Historian
Family Historian is a powerful, desktop genealogy program for Windows. It has frequently come first in group comparison tests of top genealogy programs, including emerging as the group test winner in the last two comparisons tests performed by Which? Computing. It has won a Top Rated Genealogy Software award every year for the last five years from GenSoftReviews. It recently won an award from Your Family Tree magazine in a review that heaped praise on the program, concluding: "The crown for best PC software belongs to Family Historian 6 for 2015!".
Family Historian 6 runs on Windows 10, 8.1, 8, 7 or Vista. It is published by Calico Pie Limited. For more information, please contact us.
Tel: +44 (0)7804 378986
Email: info@family-historian.co.uk
Web: www.family-historian.co.uk
Address: Calico Pie Ltd, 7 Effingham Road Lee, London,SE12 8NZ, United Kingdom