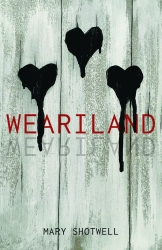 Syracuse, NY, April 19, 2016 --(
PR.com
)-- Merge Publishing is announcing "Weariland," a new novel by Mary Shotwell. The 55,000 word novel introduces readers to Weariland, which used to be called Wonderland. The land is now dark, prevalent with evil, magic, and family secrets that cannot stay hidden for long.
"Weariland stands alone with series potential," Mary Shotwell says. The novel, dark at times, brings together a crime, coming of age story, and an adventure. "Readers unfamiliar with Alice in Wonderland can still fully enjoy the book."
The novel follows Lason, a teen who travels to England for her grandmother's funeral. Her grandmother's murder is shrouded with mystery, and while she and her mother try to cope, a stranger from Weariland, a dreary world once known as Wonderland, petitions Lason's help in finding a secret family heirloom.
Lason is swept in an adventure through Weariland's unpredictable realm, encountering colorful characters and discovering her family's elusive history.
About the Author:
Mary Shotwell grew up in northeast Ohio, so it was only natural for her to pursue a degree in marine biology. After studying dolphin behavior and estimating great white shark populations, she earned her Ph.D. in Biostatistics in Charleston, South Carolina. It was there, during the arduous dissertation process, where she had the idea to write a book.
With Alice and the crazy characters from Wonderland staring her down from her bedroom poster, Mary envisioned what that fantasy realm would look like in current day. Creative writing served as a natural escape from technical writing, wedding planning, pregnancy, and job hunting.
Mary is excited to debut Weariland (Merge Publishing, Spring 2016), a novel introducing Lason Davies, a teenager who learns about her family's past in a world once called Wonderland. She currently resides in Tennessee with her husband and three children.
Available in ebook and softcover. Published by Merge, distributed by Ingram.
Author is available for media interviews and questions. Please contact Merge Publishing to arrange a time.
ISBN: 978-0-9904432-6-1 Print
ISBN: 978-0-9904432-7-8 Digital