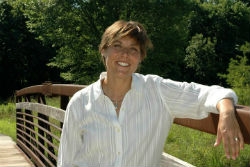 Dallas, TX, April 16, 2016 --(
PR.com
)-- Two-time Goldie winner Sandra Moran (December 20, 1968–November 7, 2015) was a writer, a scholar, a mentor and an educator. She was known and beloved for her keen intellect, her quick wit, her engaging personality, and her willingness to teach, talk, travel, and share the best and brightest of our stories and shared histories with a broad range of audiences. Sandra's work as an author and ambassador opened countless new channels of accessibility for readers of LGBTQ fiction. Through her writing and by her example, she adopted themes and explored ideas that illustrated the ways we are bound to each other, while revealing the historical, spiritual, and ideological differences that have conspired to keep us apart.
A native Kansan, she worked professionally as a newspaper journalist, a political speech writer, an archaeological tour manager, and an adjunct professor of anthropology. She authored five notable and award-winning works of fiction: Letters Never Sent, Nudge, The Addendum, (a companion piece to Nudge), All We Lack and State of Grace.
Sandra was a conscientious steward of her time and talents and gave back selflessly and generously to this, and many other, communities. Her legacy as one of our best emissaries of serious lesbian fiction is celebrated by the award of this prestigious Writing Academy scholarship established in her name.
The Sandra Moran Scholarship will be awarded each year to one student of the GCLS Writing Academy. The scholarship will cover tuition for the one year program. Each scholarship recipient will be expected to complete the program, as well as give back to the literary community.
The Scholarship recipient will be announced at the Twelfth Annual Conference during the Membership Meeting on July 7, 2016 at the Hilton Alexandria Mark Center in Alexandria, Virginia. Please visit their website (http://www.goldencrown.org - under the Education menu) for more information about the organization, the Writing Academy, and the Sandra Moran Scholarship.
The Golden Crown Literary Society (GCLS) is a 501(c)3 non-profit, volunteer organization whose mission is education, and the promotion and recognition of lesbian literature. Our goals are to provide learning opportunities, encouragement, and assistance to new and established authors in developing their craft; support and strengthen quality lesbian writing by providing educational programs and creating opportunities for readers and writers to interact; and to recognize and promote lesbian literary work.
Contact: Scholarship Committee, sandra_moran_scholarship@goldencrown.org