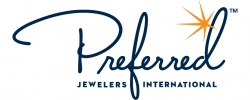 Bay Harbor Islands, FL, April 30, 2016 --(
PR.com
)-- Preferred Jewelers International, the global network of independent retail jewelers dedicated to providing excellence in service, support and value, will be heading to Las Vegas, Nevada as part of both the CBG Las Vegas and JCK Las Vegas 2016 Trade Shows.
During the CBG Las Vegas show, the 2016 Las Vegas Preferred Retailer Breakfast Meeting will be held on Thursday, June 2nd at 8:30am at Caesar's Palace in the Milano Ballroom. At this breakfast meeting there will be updates on new and exciting news on Preferred's' growth and new technology as well as the launch of Preferred's new dashboard for retailers on the Preferred Website. This will be an excellent opportunity to become even more familiar with the Preferred program and to have any questions you might have about Preferred answered.
Once the CBG Las Vegas show concludes, Preferred Jewelers International will be exhibiting at the JCK Las Vegas Show. This year, Preferred Jewelers International will be co-exhibiting in Booth #B57027 with Preferred Facilitator True Romance.
Retailers who are unable to attend the Preferred breakfast meeting at Caesar's Palace are invited to visit Preferred Jewelers International in Booth #B57027 during the JCK Show. This is the perfect opportunity for new retailers who are members, but have not yet had a chance to be introduced to the Preferred team, to become better acquainted with the Preferred Jewelers International Staff. It is also a great time for Preferred retailers to introduce new retailers to the Preferred program.
For more information on the upcoming Preferred Jewelers International exhibitions in Las Vegas, or to find out about hundreds of dollars in credits that are available to New Preferred Jewelers International members who join at JCK, please call 888-988-8874.
Please direct email inquiries to contact@preferredjeweler.com
Preferred Jewelers International looks forward to hearing from you and seeing you in Vegas!
"Preferred Jewelers believe in… Experiences that last a Lifetime™"