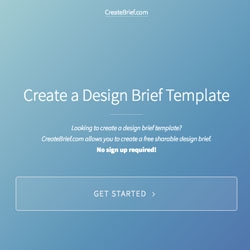 Daytona Beach, FL, May 06, 2016 --(
PR.com
)--
Placement Labs
has recently launched a new website,
www.createbrief.com
, the first of its kind free online design brief creation template. The CreateBrief web application offers users a simple tool for creating attractive, shareable design briefs, an integral part of any new business during its planning stages. CreateBrief's interactive sliders allow stakeholders to determine where on the spectrum their projects lie between "playful" and "serious," "modern" and "traditional," "feminine" and "masculine," as well as other criteria.
"Successful brands and businesses begin with a well thought out design brief, so that everyone involved has a firm understanding of the direction and feel of the project at hand," said James McCarthy, Co-Founder and CEO of Placement Labs. "Our free tool will help your team get and remain on the same page when discussing the design aspects of your projects."
CreateBrief.com provides:
- Easy-to-use user interface
- Intuitive, simple form allows for painless design brief creation
- Interactive sliders create precise radar charts
- Instantaneously generated, attractive design briefs
- Shareable design briefs URL for sharing with project stakeholders
- No file downloads, signups, or email are necessary
Create your own design brief today.