"Celebrity Spies," New E-book Series Released by Eye Spy Publishing Ltd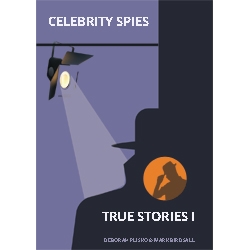 Leeds, United Kingdom, May 11, 2016 --(
PR.com
)-- Eye Spy Publishing Ltd, has released the first e-book in a new series featuring true stories about "real-life" spies. "Celebrity Spies" covers forty-three professions and industries whose famous members "spied for the side" and include fascinating trivia and hundreds of images. Book 1, Hollywood Actors, features over 50 celebrities.
Did you know?
Cary Grant was a spy hunter.
Frank Sinatra lent the CIA his jet for rendition flights.
Marilyn Monroe assembled drones during WWII.
Dr. Seuss produced instructional cartoons for the US Army Signal Corps.
Lucky Luciano, head of the mafia crime family, worked with the CIA.
The US Secret Service and hired Harry Houdini to train agents in escapology.
Alfred Hitchcock was an MI6 contact man.
Walt Disney became an undercover spy for the FBI.
Miles Copeland Jr's father worked for the CIA.
The brother of the Dalai Lama worked for the CIA?
"We are excited about the new series and although a departure from the sobering material in Eye Spy Intelligence Magazine, we hope our readers will enjoy it."
- Mark Birdsall / Managing Editor
In the series:
Actors, Actresses, Adventurers, Archaeologists, Artists, Astronauts, Astronomers, Authors, Businessman, Cartoons, Chefs, Clergy, Cowboys and Indians, Criminals, Dancers, Directors, Engineers, Entertainers, Explorers, Fashion, Groups, Historians, Inventors, Journalists, Movie Producers, Musicians, Mystics, Naturalists, Patriots, Photographers, Physicians, Playwrights, Poets, Politicians, Producers, Royalty, Scholars, Scientists, Sculptors, Singers, Sons and Daughters, Sportsman and 'The Watched'.
Book I - Actors. Features over fifty actors who actively participated in or with the intelligence services.
Contact
Eye Spy Publishing Ltd
Deborah McDonald
(+44) 01756 770199 UK, 877-309-9243 USA
http://www.eyespymag.com/celebrityspies.html
https://www.youtube.com/watch?v=3vBf1FIXqsQ

Contact