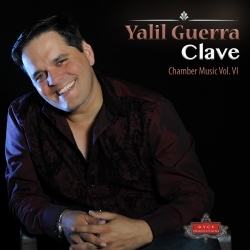 Burbank, CA, May 16, 2016 --(
PR.com
)-- Composer Yalil Guerra, born in Habana, Cuba and currently residing in Los Angeles, California, has just released his newest album, Clave: Chamber Music Vol. VI. The recording features his most recent chamber compositions, recorded by well-known ensembles and soloists from Cuba and the United States, including the Latin Grammy- nominated Ensemble Solistas de La Habana, conducted by Iván Valiente, Camerata Romeu, conducted by Zenaida Romeu, and the Lyris String Quartet, as well as other Los Angeles-based musicians.
"Clave" is Guerra's sixth album, and it includes the most recent releases from this six-time nominee and recent winner of a Latin Grammy Award. Guerra, who holds degrees from the National School of Arts in Havana, Cuba, the Real Conservatorio Superior de Música in Madrid, and Shepherd University in Los Angeles, is currently the President of the Los Angeles chapter of the National Association of Composers. He is also the president of the record label RYCY Productions, Inc., and he was a 2014 recipient of the Prestigious Cintas Foundation Award for Composition.
Clave: Música de Cámara, Vol. VI was recorded at RYCY Productions, Burbank and Live in Havana, mixed and mastered at El Cerrito Studio, in El Cerrito, CA by Latin Grammy Engineering Award winner Oscar Autie.
The album features the Cuarteto No. 3 (In Memoriam Ludwig van Beethoven), commissioned by Pacific Serenades and premiered on April 24, 2016 at the sixth annual Hear Now Music Festival, based in Venice, California. The recording also includes the first three movements of Los Dioses del Olimpo for string orchestra, composed by Yalil Guerra for Ensamble Solistas de La Habana and premiered on April 2, 2016 during the second Concierto Solidario, organized by the Leo Brouwer office.
El Cucalambé is a tribute to the Cuban poet Juan Cristóbal Nápoles Fajardo "El Cucalambé."
Clave para cuerdas y percusión was premiered by Camerata Romeu, in the concert hall of the Basílica Menor in the Convent of San Francisco de Asís, in the historic center of the Cuban capital, and it features noted percussionist Yaime Karell Lay.
These recent chamber compositions showcase Yalil Guerra's quickly developing career and wide-ranging musical influences, which range from Bach, Beethoven, Stravinsky and Aurelio De la Vega to his Latin American, especially his Cuban music roots. When we asked Guerra's primary professor and mentor Aurelio De La Vega about his protégé's music, he said, "Yalil's compositions are important, and people will talk about his work in the future even more than in the present."
Enjoy the composition El Cucalambé": www.youtube.com/watch