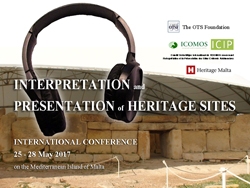 Myakka City, FL, May 16, 2016 --(
PR.com
)-- Archaeoacoustics studies the way sound behaves in ancient enclosed spaces, how early humankind may have used it and the implications of architectural manipulation. New research in this field will help conference participants examine ancient traditions of the use of sound and stone and learn how to recognize physical features of heritage sites that could suggest this practice. Malta is home to the world's oldest freestanding buildings: megalithic temples that predate Stonehenge and the great pyramids. Participants will experience extraordinary sound as it was heard 5,000 years ago in the Stone Age, consider the ageless practice of music in ritual and ceremonial practices, and explore how acoustic data directly relates to the interpretation of monumental and contemplative architectural heritage in consideration for potential applications for incorporating sound in the presentation of Heritage Sites today.
"The field of Archaeacoustics' impact on prehistory is akin to the emergence of Talkies from the silent movies of the past," says British Archaeologist and Producer Miriam Cooke. Sue Hodges, President, ICIP (the ICOMOS International Committee on the Interpretation and Presentation of Cultural Heritage Sites) and co-host of the conference points out, "Archaeoacoustics and soundscapes add an exciting new dimension to site-based interpretation. They have the potential to bring ancient sites to life and help us learn more about early humankind. Don't miss this groundbreaking conference!"
www.otsf.org/heritage-conference.html
The IPHS Malta conference, as well as a third scientific conference on Archaeoacoustics to take place in Portugal in October 2017 are organized by The OTS Foundation. OTSF is a United States of America not-for-profit 501(c) (3) educational foundation since 1994, dedicated to research and public outreach about ancient humankind and the development of monumental architecture. With offices in Florida and Valletta, OTSF is the contracted provider in Malta for the Road Scholar program of Adventures in Lifelong Learning.