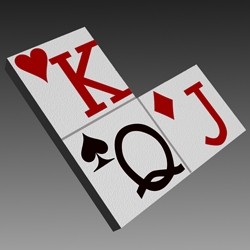 Pleasanton, CA, May 24, 2016 --(
PR.com
)-- Poker Puzzle is a simple and fun game that combines the Sweet of Puzzle and Sour of Poker. The game is relaxing as it does not include any timers or speed-ups, but also challenging at the same time as the scoring mechanism demands strategy.
It is a single player game that is available for free on Apple's iTunes App Store. It works great on iPhone and iPad with iOS 7 and above. The gameplay is simple and engaging as the player is expected to make 5-card poker combinations using different shaped puzzle pieces. But it also adds elements of fun and excitement by making the player to think and strategize in order to achieve higher scores.
The game is played by arranging puzzle pieces on the board to fill up horizontal and vertical lines. To keep progressing in the game, 5-card poker combinations need to be made to get rid of completed lines. Poker hands are ranked so that higher ranked poker combinations result in higher score with fewer moves. The game ends when player is stuck with no possible move. The game uses iOS Game Center to offer an opportunity to compete with friends and other players for top scores.
The iOS game has been available on Apple's iTunes App Store since February this year. There already have been couple of updates to the game since then to add enhancements and improvements. Following is the link to game's web site that has a video preview for the game and link to app store.
Poker Puzzle Game Website
Poker Puzzle Game has been developed by 4 Pyramids. They are a web and mobile development company with primary focus on creating fun casual games for mobile devices. Poker Puzzle is their first game being released on Apple's iTunes App Store. They are already working on another fun and entertaining game and are planning to bring many more games to the app stores.