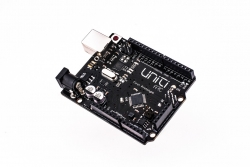 Lund, Sweden, May 25, 2016 --(
PR.com
)-- Along with the free software suite and an ARC motor shield, prototyping large machinery including those requiring the controlling and running of three phase motors is easy and time effective. Simon Wrafter, technical lead for the Uniti ARC proclaims: "We're not fighting only for engineers, but for the dream of building a car." With that motivation in mind, the Swedish startup is using the ARC to prototype their own vehicle.
As a microcontroller board with a "bigger spark," the Uniti ARC is powered by an ATmega64M1 at 16 MHz, comes with a 12-bit high speed three phase motor controller, CAN 2.0 A/B transceiver for real-time communication, 10-bit digital to analog converter and four analog comparators. In addition, it can easily be programmed using the Arduino IDE.
The Swedish tech startup will launch this first piece of hardware on May 26th at FOSS-North, the open source conference for Nordic FOSS communities. The launch is scheduled during the keynote speech, to be delivered by Uniti CEO Lewis Horne.
The price for the Uniti ARC will start at 499SEK with worldwide shipping commencing in August. More information and order online at www.teamuniti.com/arc
About Uniti
Uniti is an electric city car startup that aims for holistic sustainability, and a futuristic user experience. It is developed in Sweden in an open source manner. For more information please visit www.teamuniti.com