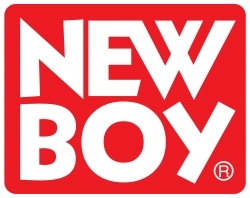 Dubai, United Arab Emirates, May 27, 2016 --(
PR.com
)-- NewBoy, the region's leading distributor of toys, stationery, food, and nursery products have partnered with Turner, a division of Time Warner and parent company of Cartoon Network, to be the exclusive launch toy advertising partner on the newly launched channel, Cartoon Network Hindi. Turner is the first broadcaster in the region to cater for this untapped kids market.
"We are delighted Turner has decided to invest in a kids' Hindi platform for the region. With such a large South Asian demographic in the UAE and other GCC countries, it is fantastic to be able to launch a dedicated channel. At Newboy, we aim to inspire and entertain the younger generation and this partnership gives us exactly that opportunity," said Mr. Manar Tarabichi, CEO of Newboy. "We are confident it will give us great leverage in our communication platforms, this agreement opens up a new reach for us to engage with the Hindi community and present our product lines including Beyblade, B-Daman, Robo fish and Battle Nox."
Commenting on the new partnership, Mr. Tarek Mounir, Vice President and GM Turkey, Middle East, North Africa, Greece & Cyprus, said, "At Turner, we are committed to providing entertaining content for all communities across the region. New Boy shares our vision for the future of children's entertainment and we look forward to strengthening this strategic partnership with them."
Cartoon Network Hindi is currently available as a pay TV channel on beIN, E-Vision part of Etisalat and du in the UAE. The channel is aimed at entertaining the significant number of children between the ages of 4 to 14 from the sub-continent residing in the region. Available in Hindi only, the new channel will include a line-up of popular Cartoon Network originals in addition to popular Indian produced cartoon series.
About NewBoy
NewBoy is a family-owned company based in Dubai, UAE and is a pioneer in the kids toy industry across the MENA region. The company also markets selected toy ranges internationally, and has an extensive distribution network with strong focus on KSA as a major hub, that includes distribution of food, stationery, nursery, and toiletries products. Founded in 1999, and employing over 1,500 people, NewBoy has successfully developed its own lifestyle doll brand, Fulla®, which became the best-selling fashion doll throughout the MENA region and soon expanded into a wide range of categories including toys, food, stationery, cosmetic and clothing. In addition, the company has introduced its own label toy brands including: Baby Habibi®; FunToLearn®, and Scan2Go®. The company also developed its own confectionery brand, SweeToon®, associated with hot cartoon characters, across a wide range of product categories, including corn flakes, chocolate egg, flavored milk, biscuits, and marshmallow, to name few. In addition, NewBoy represents leading international names including: Carrera; Hasbro; Takara Tomy; Jackks Pacific, Munchkin; Sassy, Cra-Z-Art and Zaini.
For more information, visit www.newboy.com
For media enquiries please contact:
Lucie Baker
Business Development Manager
Email: Lucie.Baker@newboy.com
About Turner International
Turner International operates versions of core Turner brands, including CNN, TNT, Cartoon Network, Boomerang and TCM Turner Classic Movies, as well as country- and region-specific networks and businesses in Latin America, Europe, the Middle East, Africa and Asia Pacific. It manages the business of Pay- and Free-TV-channels, as well as Internet-based services, and oversees commercial partnerships with various third-party media ventures; it teams with Warner Bros. and HBO to leverage Time Warner's global reach. Turner operates more than 180 channels showcasing 38 brands in 35 languages in over 200 countries. Turner International is a Time Warner company.
For media enquiries please contact:
Samer Barakat-Diab
Marketing & PR Manager
Turner Broadcasting System Arabia FZ-LLC
Tel: +971 (0)4 446 7714
Email: Samer.Barakat@turner.com