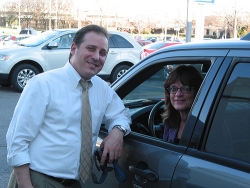 New York, NY, May 27, 2016 --(
PR.com
)--
LemonChecks.com
, offering low-cost quality vehicle history reports, which enables people to get a complete history of their vehicle within minutes; now offers consumers the ability to run a
free VIN check
on any used car. The history includes all accidents, recalls, reports on a traffic violations and other similar information that fetches a one-stop historical summary of the vehicle.
Not only can you obtain the
vehicle history report
, LemonChecks.com now offers a free VIN check covering up 250 of the most popular brands of cars, and it lists all major and minor accidents as well as records of all the traffic violations that have been committed. Lemon Checks generates a complete history of the car, including all the transfers of ownership that might have happened with the auto till the date of report generation and through this report, one can get the history of flooded vehicles as well as a salvage title check.
The service is delivered instantly online and therefore, people can request report generation on 24/7 basis. The site will serve a complete and comprehensive updated report on the vehicle to date and absolutely free of cost and thus, people can get the most realistic and reliable summary on the life history of any vehicle as easily as entering the VIN number.
The free VIN lookup report serves arrays of benefits to car owners. First, as per standard operating policies, the Insurance companies allow significant discounts and rebates for the cars that hold an impressive and safe history. Thus, in the instances of applying for a new car insurance policy or at the time of renewal, the car owner can generate the report instantly on LemonChecks.com and string it with the other car documents to claim those discounts on the insurance premium.
The second advantage that the report offers is most significant. The report will display all the transfers of ownership that have been legitimately made with the car, as well as the details on any liens that may be levied on the auto. Thus, the report will enable the buyers of secondhand vehicles to make a justified decision whether or not to invest in the purchase of the used car or not.
In the opinion of a car owner who recently sold off his used car, "The free VIN check report enabled me to convenience the buyers and hence, I got a much better price when selling my used car. Big thanks to Lemon Checks for conceiving such a wonderful service!"
About LemonChecks.com
Lemon Checks offers a free VIN check and vehicle history report for all used cars. The report can be generated 24/7 and it serves the latest information like ownership details, the records of major and minor accidents, title check, recalls, and odometer verification.