Nutrition is Essential to Liver Health
A recent survey of medical professionals revealed that proper nutrition is the most important factor regarding liver health. 9 out of 10 liver specialists and other medical professionals surveyed, would recommend the Amsety Bar as part of their patients nutrition program. The first meal replacement/ nutrition bar in the US designed to support a healthy liver diet.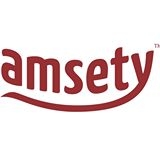 Carlsbad, CA, June 02, 2016 --(
PR.com
)-- Liver Disease is the 12th most common cause of death in the USA and the 4th leading cause of death between the ages of 45 and 54 years (CDC, 2013). Despite the fact that at least 30 million Americans have some form of liver disease, the role of proper liver nutrition is a largely ignored. Liver disease, is a frightening diagnosis and often the symptoms make it difficult for patients to manage their nutritional needs, which leads to even worse outcomes. Recommended dietary restrictions for liver patients can leave patients with limited choices and challenged with receiving adequate nutrition.
Amsety has introduced the first nutrition bar that adheres to the dietary requirements for individuals with liver conditions. Developed by leading liver specialists, researchers and food engineers, Amsety Bar provides the "Super 16 Formula" of 16 vitamins and minerals supporting liver health. The Amsety Bar can be used as a meal replacement or as a snack bar. It fits into a liver diet providing sufficient energy and oral intake for liver patients. The Amsety Bar is Certified Gluten Free, Sodium Free, Certified Organic, Vegetarian, Lactose Free, Certified Kosher and does not contain any refined sugars, artificial colours or preservatives.
Physicians and other medical professionals were surveyed at last month's DDW in San Diego, CA, the largest convention of Liver & GI specialists. They were asked to rank the importance of influencing factors on liver health. For Liver Specialists, the most important factor for liver health was nutrition followed by regular exercise. According to Amsety's survey results, the most important food restriction for a liver healthy diet was "No Refined Sugars," followed by "Sodium Free." 80% of physicians interviewed respectively found the restriction and or elimination of these two ingredients as being most significant for liver health. The Survey showed that 9 out of 10 physicians surveyed or 90.7%, would recommend the Amsety bar to their patients as either a meal replacement or a snack.
Amsety has introduced the first nutrition bar in the United States which adheres to the dietary requirements for individuals with liver conditions. Amsety was established to support Liver Health, delivering easy solutions to those living with special liver conditions. The Amsety bar is a healthy meal replacement and/or nutritious snack bar designed to meet the dietary needs of liver patients.
The products are available at
www.amsety.com
. For questions and media inquiries, please contact Michele DeMotto, Director of Business Development, Amsety, 1947 Camino Vida Roble, Suite 109, Carlsbad, CA Michele.demotto@amsety.us
Contact
Amsety
Michele Demotto
442-244-5115
amsety.com

Contact