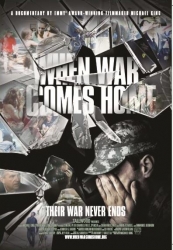 Seattle, WA, June 09, 2016 --(
PR.com
)-- R4 Alliance hosts screening of TALLWOOD presents Michael King's Documentary "When War Comes Home."
R4 Alliance members will be joined by Emmy Award-Winning Filmmaker Michael King for a special Flag Day screening of his latest documentary, When War Comes Home in Seattle, June 14th. Also joining him will be General Peter Chiarelli, US Army (retired) and CEO of One Mind and two of the film's featured veteran and spouse – Spencer Milo and Andrea Carlile. The evening will kick off at 6:00 at the Hotel Ballard with a Sponsor Reception and will proceed onto the Seattle Majestic Bay Theater for a No Charge screening of the film followed by a Q&A session with the guests.
It is a powerful and moving movie that will hit home for many of our veterans and families of those veterans. "Three Iraq/Afghanistan War Veterans return home to discover their Post-Traumatic Stress affects not only their own lives, but the lives of their wives, children and friends. Witnessing these powerful stories and many others, retired Four Star General Peter Chiarelli leads the search for better treatment for these invisible wounds of war." Acclaimed Director Michael King, Executive Producers Debby Hyde and Jennifer Harris, When War Comes Home, is a documentary feature film focusing on the lives of these three soldiers returning from combat. They search for the courage to overcome their demons and painful memories of war. The crusading efforts of Seattle's retired Four Star General Peter Chiarelli to find better solutions for treating post-traumatic stress and traumatic brain injury is an on going challenge to provide the help our Veterans need. You can learn more about the movie at
www.whenwarcomeshome.org
.
All veterans and their families are encouraged to attend. You can email
jenni@r4alliance.org
to reserve your spot at the screening or for more information on becoming a sponsor. R4 Alliance hopes to raise awareness with more screenings across the country in the future. To learn more about R4 Alliance please visit
www.R4Alliance.org
.