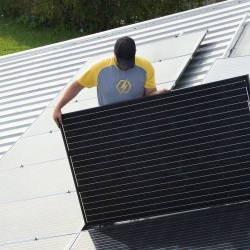 Houston, TX, June 23, 2016 --(
PR.com
)-- Houston is often seen as an unlikely place for both solar energy and for technological innovation. But in this city where solar is driven by market forces rather than local government incentives, one company is enjoying significant success by bringing the two together.
There are three main cost drivers when it comes to solar energy systems: the cost of solar panels and inverters, the cost of installation labor, and the cost of doing business.
KW Solar
, a Houston-based solar company, is innovating in an area their competitors seem to be neglecting: soft costs.
"Solar panels were prohibitively expensive until just a few years ago," says KW Solar principal and co-founder Jimmy Garrett. Garrett, who's been in the solar industry for nearly a decade, says he's seen photovoltaics go from an expensive niche gadget for early adopters, to a viable alternative to traditional energy. "The price has plummeted, thanks to innovation and demand. But we've really been seeing a leveling off in the last two years. We don't anticipate that further price drops in the cost of panels are going to be much of a factor. Sure, they'll keep declining as solar becomes more common and more players enter the market. But precipitous drops are unlikely to continue as they were a few years back."
KW Solar's business model clearly reflects this sentiment. Rather than hedging on the cost of materials by purchasing in bulk, they stay flexible with their supply chain, buying at market rate. While maintaining highly competitive pricing, the company bolsters profits through other means, primarily the cost of delivery.
Garrett's partner, Co-founder Ted Hawkes, discussed labor costs in detail. "It's highly unlikely that the cost of skilled manual labor is going down anytime soon. In fact, we pay our installers a premium, which allows us to be choosy and engage the best talent. This has its own reward…faster delivery, cleaner installs, better customer experience. You can pay twenty percent more for a great worker and get double the productivity out of them. Paying strong wages is a no-brainer." This philosophy is proving itself out–KW Solar's service record is among the best in the business. "But naturally, these guys need cost-of-living increases, and we want to see them climb in the company. So while we're able to be cost-effective, installation costs aren't going down. They're going up."
The real opportunity, says Garrett, is in the soft costs, the overhead, and the customer acquisition. "A lot of solar companies are mom and pop shops. They might do great work, but they operate old-fashioned. They aren't leveraging technology like they could. They aren't automating their processes, and they definitely aren't using the Internet to makes sales." Industry experts generally agree that the cost of customer acquisition is as high as $2,500 for a residential solar system. "That's a cost that the buyer pays, just because it was that difficult to get their business. If we can close the gap between customer and provider, we can sell our systems for quite a bit less, and sell more of them." Hawkes' expertise is in marketing and process automation, having previously founded an interactive design firm which he still operates. "We can build interactive systems–online–that do all the boring, repetitive work. Lead generation, filtering out the tire kickers, educating the consumer, qualifying them. That's stuff we used pay some pretty sharp employees to do. But they don't like it…and they're not as good at it as the computers. So we save time and money, and our people can focus on stuff they're better at. And of course we pass the savings on to our customer! Just not all the savings."
KW Solar has been aggressively developing lead generation, CRM, and project management tools, which it's been using in its day-to-day business. Record numbers of site visitors are using KW's Solar Wiz to configure a system for their own homes, and some of them are taking the next step and becoming customers. "Even if we don't make a sale, folks are getting educated, and they're getting a positive experience with us that's likely to yield results down the road."
Company leaders are optimistic about the future. "We're pretty strongly convinced that we're at the very beginning of a huge wave," says Garrett. "Solar preeminence is inevitable. It's already cheaper in the long run to do solar than to buy from the grid. There are a few kinks we're still working out in the cost model, but it's completely viable and affordable." With further environmental regulations and incentives being all but inevitable, solar energy is likely to be a dominant factor in our energy future. Hawkes said, "We think whoever can get in early and learn to do it well is going to be on top of the wave. And we think that's us, in case we didn't make that clear."
KW Solar is privately owned and operated in Houston, Texas.