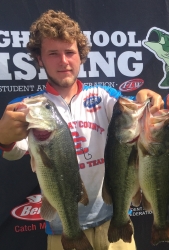 New Concord, KY, June 28, 2016 --(
PR.com
)-- A 17-year-old high school graduate from Kentucky and his innovative ideas, hard work and a passion for fishing provide the perfect "catch" for success.
Coleton Jennings, a former competitive high school bass angler turned entrepreneur launched Jenko Fishing to manufacture and sell fishing tackle just weeks before graduation. Jennings' passion for the sport and his fresh take on lure design shows in his products. So it's no surprise that in a few short months,
Jenko Fishing
is already having success in sales of fishing tackle.
Fishermen all over the country have been calling to buy Jennings' creations thanks to the power of social media. The young Kentucky businessman had a simple answer for the quickly growing demand.
"They catch fish," Jennings said.
The company's
Facebook page
displays many customer pictures who have caught lots of monster bass and crappie on Jenko Fishing products.
Jennings' now spends much of his time traveling from lake to lake and tackle shop to tackle shop. This is more challenging than it might sound since he's not yet old enough to rent a hotel room. He's been forced to stay with friends while on the road. The company currently averages one or two new Jenko dealers every day.
"They are coming from all over the country. Meeting and working with the store owners and fishermen is my favorite part of the job."
In July, Jennings will celebrate his grand opening by displaying his products at the nation's largest fishing expo, ICAST, but he has one stop to make before then: Pickwick Lake in Florence, Ala., the site of the 2016 TBF High School Fishing World Finals. This will be Jennings' final high school fishing event. And after placing sixth out of nearly 200 competitors last year, his hopes are high.
"I'd love to go out with a bang, but mostly I just want to enjoy the week and catch some fish on my favorite lake."
About Jenko Fishing: Owned by father and son entrepreneurs Matt and Coleton Jennings, Jenko Fishing is a fishing product company focused on fresh, innovative designs to consistently catch bass and crappie. Jenko's products include a full line of premium lures, including its signature hair jig, soft swimbaits, hard swimbaits, spinnerbaits, crankbaits and a top-of-the-line crappie rods. Shop for Jennings' eye-catching and fishing catching designs in retailers near you very soon and on his website,
JenkoFishing.com
.
###
www.jenkofishing.com