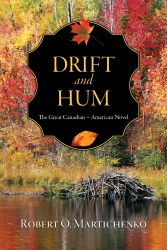 Summerville, SC, June 29, 2016 --(
PR.com
)-- As Canada Day approaches on July 1st, Canada and its prime minster, Justin Trudeau, have a high profile on the world stage. The U.S. presidential election is producing excellent press for America's northern neighbor. Google reported a record number of searches for "move to Canada" since Super Tuesday. (Google Trends reported a surge in similar searches in Britain since the Brexit votes were announced last week.)
But are Americans truly prepared to live the life of a Canuck? Canadian-American author Robert Martichenko can discuss what it was like to grow up in northern Canada, and offer helpful advice for U.S. citizens who are considering crossing the world's longest undefended border to emigrate to Canada.
He can discuss these and other common questions: Does running away from a dysfunctional election enable you to qualify for refugee status? Are all Canadians obsessed with hockey? What the heck is poutine? Where are the igloos? You mean the U.S. is not the biggest country in the world?
Martichenko is a speaker, writer, poet and novelist. His new book, "Drift and Hum: The Great Canadian-American Novel" (
www.driftandhum.com
), won the Canada Book Award. "Drift and Hum" has been described by IndieReader as "a delightful exploration of the bonds of friendship and love, and an unforgettable epic depiction of youth's passage into adulthood." This debut novel tells the story of the four "Beaver Brothers" who embark on adventure after adventure in their quest for peace of mind in the Canadian North and the American South.
Robert Martichenko was born in Timmins, Ontario and has lived in the U.S. for the past two decades. An entrepreneur and CEO of LeanCor Supply Chain Group, Martichenko is the author of several successful business books and a novel, "Drift and Hum." He received the 2015 Distinguished Service Award from the Council of Supply Chain Management Professionals (CSCMP) and was chosen as a 2015 C-Suite honoree by Venue & LEAD Magazine.