Teq AVIT Best of Show Winner – InfoComm 2016 for AV Technology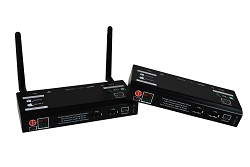 Rancho Santa Margarita, CA, July 01, 2016 --(
PR.com
)-- InfoComm 2016 was a successful show for Teq AVIT, who was awarded a Best of Show award for its AirPresent WiPS710-NET wireless presentation system. The announcement was made on Friday, June 10, the final day of InfoComm 2016.
"In a crowded world of wireless AV collaboration devices, the Teq AVIT WiPS710-NET provides a variety of solutions at the lowest price points while also providing multiple models sure to make conversations with enterprise network managers go smoother," the show judge said of the product.
"With several wireless presentation/collaborations products available now, we are extremely happy to have been selected for this award," said Richard Dussaigne, National Sales Manager at Teq AVIT. "Our wireless presentation systems were first to the pro AV market in 2006 and since then we have continued to develop innovative and reliable products that provides ease of use for our customers."
Best of Show winners were submitted for consideration and selected by a panel of anonymous InfoComm members (CTS-certified) on-site judges at InfoComm 2016. On Day 1 and Day 2, the judges evaluated each entered product against multiple criteria including innovation, performance against category standard, richness/relevance of feature set, ease of installation/maintenance, network friendliness, and value/ROI. Products with the highest total points were designated as winners.
Teq AVIT manufactures several models of the WiPS710 series providing the optimum solution for network and industry specific requirements. Teq AVIT AirPresent WiPS and WiD series are an integral parts of the Corporate, K-12 and Higher Education markets both nationally and internationally.
For more information on the WiPS710, visit the company's official website at
www.teqavit.com
.
Contact
Teq AVIT
Richard Dussaigne
949-709-4040
www.teqavit.com
Cell Phone: 949-419-7631

Contact