Geoff Notkin and George R.R. Martin to Appear at Neil Gaiman Film Screening Saturday, July 9
"Dream Dangerously" screening to be held at Martin's Santa Fe Theater at 7 p.m.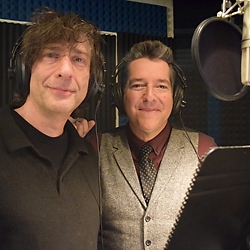 Tucson, AZ, July 07, 2016 --(
PR.com
)-- Geoff Notkin, recognized around the world as the star of TV's "Meteorite Men," will join celebrated "Game of Thrones" author George R.R. Martin in Santa Fe, New Mexico this Saturday evening for the Southwestern theatrical premiere of a new documentary about the life and career of best-selling author Neil Gaiman.
Tickets for this once-in-a-lifetime event, being held at Martin's historic Jean Cocteau Cinema, are now on sale at www.jeancocteaucinema.com. Prices are $10 for adults and $8 for students and seniors. The Jean Cocteau Cinema is located at 418 Montezuma Avenue in Santa Fe.
The film, entitled "Neil Gaiman: Dream Dangerously," includes revealing interviews with some of Gaiman's closest friends, including Notkin and Martin. Notkin and Gaiman became lifelong best friends after meeting at age 10, when they bonded at the strict British school they both attended. Notkin is an Executive Producer on the film.
Following the screening, Notkin and Martin will be joined on stage by the film's director, Patrick Meaney, and producer, Jordan Rennert, for a live audience Q&A.
"Neil Gaiman: Dream Dangerously," has a worldwide release date of July 8, 2016 on Vimeo. A trailer and information on pre-ordering is available at https://vimeo.com/ondemand/neilgaiman. Media wishing to review "Dream Dangerously" prior to the official release may contact pr@aerolite.org for a screener.
Prior to pursuing his love of science, writing and public speaking, Geoff Notkin had a successful career as a cartoonist, after graduating from New York City's famed School of Visual Arts. His third book, "My Incredibly Strange and Amazing Real-Life Adventures in the World of Comic Books," chronicles his close encounters with titans of the comic industry, including Eisner, Caniff, Kurtzman, Gilliam, Spiegelman, and, of course, Neil Gaiman. The book is currently available on Amazon and at http://geoffnotkin.com/books.
Media wishing to interview Geoff Notkin are asked to contact Becca Gladden, Director of Public Relations, at pr@aerolite.org or (623) 210-6554.
Photo caption: (L) Neil Gaiman and (R) Geoff Notkin.
About Geoffrey Notkin: A television host, professional meteorite hunter, science writer, and photographer, Notkin is president of Aerolite Meteorites, Inc., the world's largest commercial meteorite company. He starred for three seasons on Science Channel's award-winning TV show "Meteorite Men," and hosted the Emmy-winning educational TV series "STEM Journals" for Cox Media. He has also made documentaries for National Geographic, Discovery, PBS, BBC, History Channel, A&E, and Travel Channel. Notkin has written more than 150 published articles on meteoritics, paleontology, adventure travel, history, and the arts, and is the author of three books. The minor planet 132904, discovered at Mount Palomar, was named "Notkin" and approved by the Minor Planet Center in recognition of Geoff's contributions to science and education.
Website: www.geoffnotkin.com
Contact
Limelight Writing & PR
Becca Gladden
623-210-6554
www.limelightwriting.com

Contact