US Lighting Group to Appear at Next Week's RNC in Cleveland
The Trump organization has personally invited Paul Spivak, CEO of US Lighting Group, to appear at next week's Republican National Convention after a member of the Trump team met with Mr. Spivak and his team at their Eastlake, Ohio facility a few weeks ago.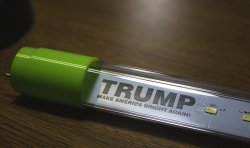 Eastlake, OH, July 15, 2016 --(
PR.com
)-- A couple of weeks ago, US Lighting Group (Symbol:
LXRT
) received a visit from a member of the Trump organization. He was there to tour their facility, take a look at their new Donald Trump-inspired LED light bulb, and talk with them about their hopes for the future economy and what's important to them as a small, entirely U.S-based business. Today, the company is honored to announce that their CEO, Paul Spivak, will be participating in this year's RNC in Cleveland as a representative of the local business community, per a personal invitation from the Donald Trump organization.
As someone with extensive experience running a small business, Mr. Spivak understands the importance of keeping manufacturing within the United States. To a company like his, this economic philosophy is essential, and that was one of the biggest motivations behind creating the Trump-inspired bulb and inviting a member of Trump's team to come speak with them about it. Paul Spivak and his team understand firsthand just how devastating sending labor overseas can be to a small business like theirs. With US Lighting Group just recently becoming a publicly traded company, the condition of the local economy matters to them now more than ever.
Mr. Spivak will be representing those affected by outsourcing manufacturing to countries overseas and intends to discuss NAFTA and China if called on to speak during his appearance. Everyone at US Lighting Group is thrilled that he will be attending as a guest of the Trump organization and a representative of US Lighting Group. The Republican National Convention kicks off in Cleveland on July 18th and goes until July 21st. You can check out the official RNC schedule on the
convention's website
.
If you want to learn more about US Lighting Group, head over to their
website
. You can view their previous news bulletin about their meeting with Trump's representative, learn more about the company's investment options, or take a look at their LED lighting products. Be on the look out for more information about US Lighting Group and Mr. Spivak's trip to the RNC as this story develops.
Contact
US Lighting Group
Olga Smirnova
216-896-7000
www.uslightinggroup.com

Contact