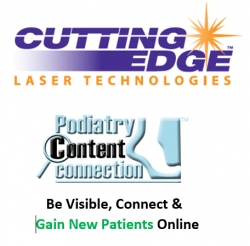 New York, NY, July 21, 2016 --(
PR.com
)-- Cutting Edge Laser Technologies (CELT) will partner with Podiatry Content Connection to offer exclusive marketing support to podiatry clients. This support, combined with the revolutionary MLS® Laser Therapy technology from Cutting Edge will help bring patients into podiatry offices and rapidly reduce their pain.
"This partnership will help podiatrists gain traction after acquiring Cutting Edge Lasers' great foot and ankle pain solution – the MLS Therapy Laser," says Jeff Hartman, Director of Marketing at Podiatry Content Connection (PCC).
Cutting Edge Laser Technologies, located in Fairport, New York, provides the only robotic therapeutic laser available to the podiatric market. It's technology is very effective at managing foot and ankle pain and is a must see for any podiatrist. See the Robotic M6 MLS Therapy Laser in action at booth 508 at the upcoming APMA Annual Scientific Meeting in Philadelphia, Pennsylvania.
MLS Laser Therapy Overview:
MLS (Multiwave Locked System) Laser Therapy is quickly becoming the standard of care in alleviating pain and inflammation associated with many common conditions, while generating practice revenue in the face of declining reimbursements. This patented, FDA cleared, Class IV technology is designed to produce an efficient and simultaneous effect on pain, inflammation and edema within a short period of time. The control system that generates the MLS pulse synchronizes the emissions to achieve optimum results. Due to this unique synchronization, the various therapeutic effects not only take place at the same time, but reciprocally reinforce each other for rapid results.
Cutting Edge Lasers & Podiatry Content Connection Offering: A powerful combination that benefits podiatrists and their patients.
PCC has developed a special marketing program for CELT's clients in the Mid-Atlantic area (New Jersey – Virginia). For a limited time, Cutting Edge Laser Technologies will include the cost of this program when a client purchases or leases any MLS Therapy Laser.
Podiatry Content Connection offers blogging, content marketing, website design, Google Adwords, Facebook campaigns, SEO and online directory optimization – all focused on podiatrists gaining new patients online. Over the last three years PCC has been working with the Temple School of Podiatric Medicine, The New York College of Podiatric Medicine and recently Kent State University to deliver online marketing to help their alumni gain more new patients from the web.
For more info:
Website:
www.PodiatryContentConnection.com
support@podiatrycc.com