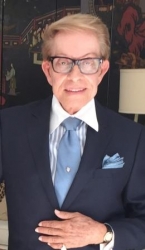 Los Angeles, CA, August 13, 2016 --(
PR.com
)-- Rafael The Marquis de Marchena-Huyke of Los Angeles, California has been recognized as a Professional of the Year for 2016 by Strathmore's Who's Who Worldwide Edition for his outstanding contributions and achievements in the field of interior design.
About Rafael The Marquis de Marchena-Huyke
Marquis Rafael de Marchena-Huyke has over 50 years experience in the interior design field. He is an Interior Designer who owns his own Beverly Hills design firm providing interior design, remodeling and decorating services for homes and apartments in California. He is responsible for purchasing fine antiques in France, Italy and South America. The Marquis decorates and remodels homes and apartments. He has donated a collection of over 50 old rare books to the Doheny Library. A home he designed was featured in "La Ola Caribe" Magazine, edition No. 77, May 2015 in Barranquilla, Columbia. The Marquis is affiliated with The Music Center Founders in Los Angeles, The Los Angeles Philharmonic, The Dance Group of the Music Center, the Friends of the USC Libraries and the Alumni Association at Western Michigan University.
Marquis de Marchena-Huyke has traveled either for business or pleasure in Egypt, Greece, Turkey, Indonesia, Hungary, Austria, Scandinavia, Denmark, Sweden, Finland, Norway and Romania, where he attended the weddings of his friends the Prince and Princess Paul of Romania. He also traveled to Central, South and North America, the Caribbean, Israel, India, Japan, China and Russia. He has supported the Los Angeles Opera for a number of years as well as the Opera League of Los Angeles. He serves as a Board Member of the Opera Associates. Marquis de Marchena-Huyke has served as a trustee of the Windsor Square Hancock Park Historical Society for over 30 years. He is a donor to the West Hollywood Library and has given scholarships to the University of the North in Barranquilla, Colombia, his home town, in memory of his father, Rafael de Marchena, his mother, Aminta Huyke de Marchena and his wife, Luisa Islas de Marchena-Huyke.
Born on February 23rd in Colombia, South America, the Marquis de Marchena-Huyke obtained a B.S. in Business Administration from the University of Southern California and attended Western Michigan University in Kalamazoo. In his spare time he enjoys photography, painting, travel and antiques.
About Strathmore's Who's Who Worldwide
Strathmore's Who's Who Worldwide highlights the professional lives of individuals from every significant field or industry including business, medicine, law, education, art, government and entertainment. Strathmore's Who's Who Worldwide is both an online and hard cover publication where we provide our members' current and pertinent business information. It is also a biographical information source for thousands of researchers, journalists, librarians and executive search firms throughout the world. Our goal is to ensure that our members receive all of the networking, exposure and recognition capabilities to potentially increase their business.