The Big Business of Marijuana Growing Exposed in a New Series
Growing Exposed is a new series opening up viewers to the world of growing cannabis and premieres at the Maximum Yield Indoor Gardening Expo in Vancouver, BC.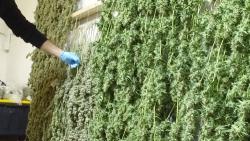 Vancouver, Canada, August 13, 2016 --(
PR.com
)-- During the Gold Rush, while people were running for the hills with their pick axes and pans to strike it rich, there were many companies manufacturing and supplying the products to mine that gold. Fast-forward to today, the Gold Rush is over but the Green Rush is just getting momentum. The recent decision made by the Canadian Government to
allow medical patients to grow a limited number of their own cannabis plants
has undoubtedly made many patients who have waited years for this news to rejoice, but there is no one happier about today's decision than the manufacturers of hydroponic and growing equipment, who are all meeting this weekend at the Maximum Yield Trade Show in the Convention Center in Vancouver, BC, the largest trade show of its kind in over a decade.
Hydroponics is the process of growing plants without soil and far less water than traditional growing methods. The cannabis plants are fed high quality nutrients through various systems. One company from Surrey, British Columbia, Green Planet Nutrients, is a world leader in the industry. As a platinum sponsor, they are putting a huge amount of effort into promoting the event and to get the word out to anyone interested in cannabis, traditional gardening, hydroponics and anything related to growing. When you see the show, you won't know if you are at a hydroponic trade show or the X-Games. The atmosphere is going to be fun, upbeat, full of entrepreneurs and creativity -- the perfect blend for a growing industry.
However, it's not only the hydroponics industry that's feeling the hype. Hoping to make a splash this weekend is film producer Jeremy Deichen, who will be screening the first episode of his new series Growing Exposed to a sold out crowd on Saturday. The show is set to be like MTV Cribs for marijuana grow operations, featuring Amanda Mackay, a former MTV Canada host.
Maybe you won't see the show on primetime yet, but for those intrigued rest assured that change is coming. With cannabis soon to become legal in Canada more people will wonder how it is grown, cultivated, and sold. Jeremy Deichen, film producer, has self-funded this endeavour with plans to create 12 episodes this year and believes the timing is ripe for a big network to come knocking. "I have no doubt that social curiosity of how this plant is grown and the people behind it is enough to make this show popular. It will be bigger than the industry itself. You don't need to be a grower to be fascinated by all the money and facilities that are being created all over Canada right now to keep up with the demand of pot smokers and medical users," says Deichen.
It seems clear that the future of the hydroponics industry is brighter today than it has been since its inception. Taking advantage of a booming industry and the cultivators who will grow this crop, the series takes a look into the once underground and demonized world of marijuana production, which is now gaining momentum as a legitimate and legal industry. Documenting garden tours, product tips, and reviews, "Growing Exposed" gives the viewer unprecedented access to a growing list of legal gardens and experts across North America. Most importantly, it sets to educate and open the eyes of viewers, quenching the curiosity of the majority of the population about how marijuana is grown and the vast cast of characters behind it. The first episode will be available for streaming at www.growingexposed.com after this weekend.
Contact
Growing Exposed
Jeremy Deichen
778-855-3456
growingexposed.com

Contact