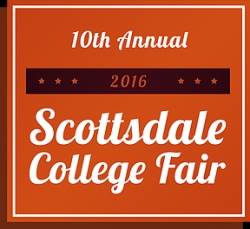 Scottsdale, AZ, August 18, 2016 --(
PR.com
)-- On October 22nd, 2016 from 1:00-3:00pm, The Scottsdale College Fair Foundation will bring 100+ colleges and universities from around the world to Desert Mountain High School. The 10th Annual Scottsdale College Fair event held at Desert Mountain High School gives students and parents the chance to converse with college representatives and gather additional information on prospective schools. Each year, college representatives come to the Scottsdale venue eager to speak to students and their parents about exciting opportunities within their campuses.
For the 2016 Fair, valley high schools students will be able to compete for a $500 donation towards their school's prom fund via The Scottsdale College Fair's Prom Competition when they attend the event. All valley high schools are encouraged to join the competition, and the school with the highest number of attendees will receive the prom donation.
The 2016 Scottsdale College Fair is a free event that welcomes the public. By visiting Scottsdale College Fair's Twitter page, attendees can view the 2016 attending Colleges to see which colleges will be present at the Fair, receive updates, and share the event with friends.
Since 2007, The Scottsdale College Fair Foundation, a non-profit 501(c)(3) organization, has given back to students pursuing a path in higher education. Each year, 2016 being no exception, five scholarships are awarded to local, college-bound high school seniors who are academically competitive, intending on attending a four year college or university, and have lost a parent. Scholarships range from $1000-$3000, and in its 9 years of existence, The Scottsdale College Fair Foundation has given away more than $50,000.
For questions about The 2016 Scottsdale College Fair, please contact Deanna Alman or Alexis Gonzalez or Rachel Hart at 480-235-8121.