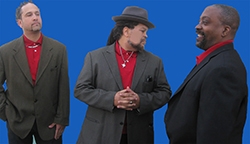 Boston, MA, August 22, 2016 --(
PR.com
)-- On Tuesday, August 16, the Native American Music Association announced that The GroovaLottos are top nominees for "Best Pop Recording" with their E.P. "Do You Mind...?" (
http://tinyurl.com/tg-dym
) featuring their top ten hit, title track. Five top nominees are selected in each category by NAMA's membership, comprised of music industry professionals. The general public votes for the winners of each category.
Cast your vote for The GroovaLottos for "Best Pop Recording" (Category #15). Links to the ballot can be found on www.namalive.com and follow the prompts; or
https://www.surveymonkey.com/r/VOTENAMA16​
The GroovaLottos soul-funk-blues power trio, comprised of award-winning, veteran studio session and touring players and singers. Forming in 2011 as a New England regional band, they immediately stood out for their original interpretations of classic soul, funk, rock and blues tunes as well as their original tunes, penned by the band's keyboardist vocalist. Consisting of Melvin Coombs, Jr, bass; Mwalim DaPhunkee Professor, keys and vocals; and Eddie Ray Johnson, drums and vocals. Along with bar and community shows, the band is also on the academic lecture/ presentation circuit about Native American musical elements found in African American music, particularly the blues. Band member, Mwalim DaPhunkee Professor (MJ Peters) is a noted musicologist and folklorist as well as a professor of English and Director of Black Studies at UMass Dartmouth. All of the band members are Native American, with Peters and Coombs being members of the Federally recognized Mashpee Wampanoag tribe, and Johnson being of the Louisianna Choctaw band.
The GroovaLottos rose to international acclaim with the release of their debut E.P. and video, "Do You Mind...?", breaking on Americana radio on the "Direct From Muscle Shoals" radio show and going into rotation on over 40 syndicated, terrestrial and streaming radio shows on 350+ radio stations worldwide. "Do You Mind...?" reached #5 on the World Indie Blues Charts in June. Download versions of the E.P. and singles can be purchased on iTunes, Amazon, and Bandcamp.