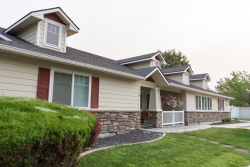 Meridian, ID, August 24, 2016 --(
PR.com
)-- Ashley Manor is proud to announce its twentieth year as a leader in providing memory care in small residential facilities in Idaho, Colorado, and Oregon. Ashley Manor has achieved two decades of innovation and steady growth. The company will commemorate the occasion with a paid company holiday for all of its employees, a full rebranding, and a fundraiser to benefit the Alzheimer's Association. The founder of Ashley Manor, Keith Fletcher, is taking a tour of all of the homes and meeting with all of the employees to personally thank them for their service.
Ashley Manor began operations in 1996 when Keith Fletcher and Roger Malm, the company's founders, built their first 8 bed facilities in Nampa, Idaho and in Payette, Idaho. Each having loved ones with memory loss, and not being happy with the care that was available at the time, they agreed that they wanted to create something better for their loved ones and others suffering from dementia. Research was done through two major Universities, and through these studies it was decided that small residential homes with 16 beds or less were the best model for providing quality care for this population.
The early success of Ashley Manor indicated a growing demand for small memory care facilities. Seeing the opportunity, Ashley Manor built 23 locations in the first 5 years of operation. Ashley Manor currently has 59 facilities in 3 states, Idaho, Oregon, and Colorado and will be building its 60th facility in Lakewood, Colorado this fall.
For details, visit our website at
www.ashleymanor.com
or call us at 1-888-376-7298.