Pimp Your Bike with Biketones! Horntones Releases First and Only MP3 Bicycle Horn.
Horntones releases first and only MP3 bicycle horn.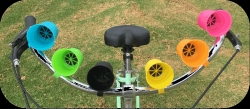 San Clemente, CA, September 14, 2016 --(
PR.com
)-- Say goodbye to boring bells and antiquated clown horns. Bicycle horns have just entered a new era with the introduction of Biketones, the world's first and only MP3 bicycle horns.
Biketones are available in 7 different colors, sounding 7 different fixed MP3 clips. The horn audio ranges from the familiar minions siren "Bee Doo, Bee Doo, Bee Doo" to the Dixie horn. Visit
www.horntones.com/biketones.html
to see and hear all 7 Biketones.
Invented by 9 year old boy
According to Horntones CEO, Mike Kosco, "Horntones released the FX-550, an MP3 car horn, back in 2007. My son was inspired by the car horn and wanted to have a custom horn made for his bicycle… In 2012, he was 9 years old. He came home from school one day and shared with me his 'great idea'...an MP3 horn for a bicycle. Not only did he describe his idea verbally, he had drawn a fairly detailed schematic of his invention (see schematic attachment).
"After 4 years of searching out components, learning solid modeling and making several rounds of prototypes... we are happy to announce the release of Biketones, the world's first and only MP3 horn for your bicycle!"
Kosco added, "Wherever we go introducing Biketones, we are always met with smiles and laughter." Biketones will debut at the 2016 Interbike Show in Las Vegas September 21-23, 2016 (Booth KS3).
Pricing and Availability
Biketones are now shipping and can be purchased at www.horntones.com. Biketones MSRP is $19.95USD.
About Horntones
Founded in 2005, Horntones designs and manufactures innovative, state-of-the-art mobile audio products. In 2007 Horntones introduced the FX-550, the world's first MP3 vehicle horn. In 2016 Horntones introduced the world's first MP3 bicycle horn.
More information about Horntones can be found at www.horntones.com
Media Contact:
Mike Kosco
Horntones
CEO
Voice: 702-703-4676
Email: mike@horntones.com
www.horntones.com
www.facebook.com/horntones
Contact
Horntones
Mike Kosco
702-703-4676
www.horntones.com

Contact