Pinnacle Production Group Presents Chinese Lantern Light Festival in Miami Experience Spectacular Evening of Massive Chinese Lanterns
A celebration of Chinese culture, the Lantern Light Festival arrives in Miami on November 30 at the Miami-Dade County Fair Expo Center. The festival is a six-week production featuring massive lanterns, inspiring performances and incredible cuisine. Attendees will experience a kaleidoscope of colors, shapes, and themes in the run–up to the Christmas period and beyond. Learn more at http://www.lanternlightfestival.com.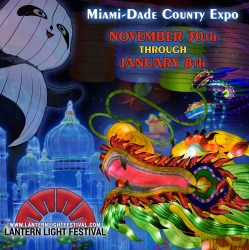 Miami, FL, September 15, 2016 --(
PR.com
)-- "While some people have seen lanterns being released into the night sky, these lanterns stay firmly on the ground," explained Sanjay Syal, President & CEO of Pinnacle Production Group. "This show was designed for Miami and costs $2 million to produce, with lantern themes including global architecture, animals and sea life, holiday traditions, and mythical stories. Custom-made by Chinese artisans, lanterns can reach up to 30 feet in height and 150 feet in length, creating a striking visual display."
In addition to seeing the gigantic lanterns, the festival promises fun for the whole family. Children's activities include:
face-painting
live music
fireworks
Chinese acrobats
mini golf
a miniature train
mining for emeralds
The event runs from November 30, 2016 to January 8, 2017, between 5:00 pm and 11:00 pm at the Miami-Dade County Fair Expo Center, 10921 SW 24 Street, Miami, Florida 33165.Ticket prices range from $19 to $23, with group pricing available.
Over 2,000 years ago in China, Emperor Hanmingdi ordered that lanterns be lit to show respect to Buddha on the fifteenth day of the first Chinese lunar month. The festival traditionally ends the Chinese New Year period, marking the return of spring and symbolizing the reunion of family.
Eighty artisans need 3 months to complete the hand-crafted lanterns, which are made from hundreds of pieces of silky cloth. At the festival, attendees can try their hand at lantern building to give them a taste of the skill involved in the construction process.
Next stop for the Lantern Light Festival is Memphis,TN in the spring of 2017.
About Pinnacle Production Group
For more than 20 years, Pinnacle Production Group has delivered over 1,000 shows across ten different industries, including family entertainment. These shows have attracted over 5 million attendees.
Contact:
Sanjay Syal
Pinnacle Production Group
4390 Round Lake Road West
Arden Hills, MN 55112
Email: info@ppgshows.com
Phone: (651) 504-2000
Related Link:
http://www.lanternlightfestival.com
Contact
Pinnacle Productions Group
Sanjay Syal
651-504-2000
www.lanternlightfestival.com

Contact
Multimedia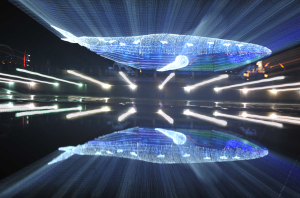 This holiday season come and see the best and largest holiday light show in North America. The Lantern Light Festival will run for six weeks in Miami, Nov. 30 to Jan. 8, and then head to Memphis.