Fall Allergy News: Guardian Technologies™ Unveils Hi-Tech, Wi-Fi Smart Premium Air Cleaning System
New Wi-Fi-enabled Air Purifier Activated with Downloaded App Allows Users to Monitor and Control Indoor Air Quality from Anywhere at Anytime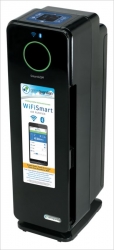 Euclid, OH, September 16, 2016 --(
PR.com
)-- Guardian Technologies™, a leading manufacturer and marketer of home environment products, has introduced a new state-of-the-art air cleaning system: the GermGuardian® CDAP4500BCA Wi-Fi Smart 4-in-1 True HEPA Air Purifier with UV Sanitizer and Odor Reduction. This new 22-inch tower air purifier becomes Wi-Fi or Bluetooth®-enabled when used with a downloadable Guardian Technologies app, giving the user the power to monitor and control indoor air quality from anywhere - 24/7.
The 4-in-1 air purifier provides allergen relief with a True HEPA filter which captures 99.97% of allergens including pet dander, dust mites and pollen. It harnesses the power of UV-C light technology, the same technology used in hospitals, to kill airborne germs including staph, influenza, rhinovirus and pneumonia. It reduces unpleasant household odors with an activated carbon filter capturing smells from pets, cooking, smoke and other household or college dormitory culprits.
The air purifier also automatically senses and optimizes the room air quality using SmartAQM™. The built-in sensor measures the particles in the air and when set to auto mode, will adjust the fan speed as needed in order to optimize the air quality. Always at your control, the Guardian Technologies app provides the information from the SmartAQM and displays a rating of "Good," "Average" or "Poor" as it adjusts to reach and maintain a good rating. The user can also use the app to adjust the 5 speeds, set a run time up to 8 hours and control whether or not they UV feature is on.
The app eliminates guessing and helps keep the air purifier performance optimized by sending you a notification when it's time to replace the filter or UV-C bulb. A simple touch and you're connected to the website where you can immediately purchase a new filter or register for the AutoShip and Save Program.
CADR Rated 100+ and is lightweight and ideal to use in small to medium sized rooms. The CDAP4500BCA incorporates both form and function to provide a superior air cleaning system. The simple, stylish design fits into any home environment or college dorm room. The CDAP4500BCA comes with a 3-Year Limited Warranty. The suggested retail price is $199.99.
Additional New Air Purifiers From Guardian Technologies
GermGuardian® AC9200WCA: Hi-Performance True HEPA Ultra-Quiet Air Purifier System with UV-C, Allergy & Odor Reduction
This purifier covers up to 378 square feet making it ideal for medium to extra-large sized rooms. The unit features a True HEPA filter that helps reduce exposure to indoor allergy triggers. A large activated granular carbon filter attacks smoke, cooking and pet odors along with harmful VOC's emitted by household products.
An optional ionizer can be turned on to boost allergen control. CADR ratings are high with 244 (smoke), 310 (dust), and 346 (pollen). Other features include touch-screen controls, ultra-quiet operation, three speeds including a sleep mode, UV on/off selector and filter change reminder. Suggested retail price: $399.99.
GermGuardian® AC4150PCA/AC4150BLCA 4-in-1 Night-Night
The new GermGuardian® AC4150PCA/AC4150BLCA 4-in-1 Night-Night lets parents create a nighttime adventure for their child by combining a projector with a HEPA air purifier. The optional night light will rotate from white, to green to blue, or can be set to stay on one color. The units come with colorful nighttime scenes with three projector options which make the ceiling come to life as kids and parents choose between Twinkle Moon & Stars, Sleepy Safari or Under the Sea theme.
With a HEPA filter, it captures 99% of dust and allergens. More than just a filter, the UV light kills germs, while the charcoal filter captures odors from that nasty diaper pail or smelly sports uniform. The 3-speed controls include a low speed that runs ultra-quiet or a high speed that can be used as a soothing white noise. The AC4150PCA/AC4150BLCA makes a great gift for new moms to add to their baby registry. It comes with a 1-year warranty and has a suggested retail price of $79.99.
Guardian Technologies, LLC
Guardian Technologies, LLC, is an Ohio-based company that offers a full range of small appliance-based solutions designed to make it easier for people to live healthier and happier lives at home. The company is dedicated to bringing innovative, effective and quality new home environment products to the consumer market, including cutting edge UV-C technologies. For more information on Guardian Technologies' full line of products under the GermGuardian® and PureGuardian® brands, please visit
www.guardiantechnologies.com/
or call toll-free at 1-866-603-5900.
Contact
SLV Public Relations, LLC
Stacey L. Vaselaney
216-905-0908
www.slvpr.com

Contact