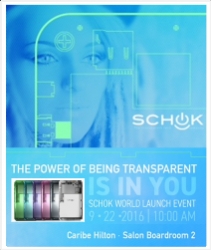 Dallas, TX, September 22, 2016 --(
PR.com
)-- Schok will unveil its Schok mini tablet on the fun, vibrant island of Puerto Rico. Schok mini is the World's most powerful Android tablet in its class with advanced features and performance never seen at such an affordable price point.
According to Schok CEO Samuel Gutierrez, "Schok mini was created to disrupt the status-quo in the tablet industry!" Samuel adds: "Consumers are tired of boring tablets with no soul or power! With Schok mini, we created a unique Tablet that offers the world's first fully transparent structure. Our tablets have six different vibrant translucent colors which clearly depart from the traditional same mold of one size fits all philosophy with the sole mission of being as personal, unique and powerful as its future owner."
Schok will transform the industry by offering very attractive high performance feature rich Tablets that are far more affordable than those of competitors. "We don't skimp on performance!" adds Gutierrez. "Our Schok Tablets include 8-Core, 64 bit and 2GB ultra-fast memory that provides a solid high performance device for video streaming, music and gaming in a personalized vibrant package at such an affordable price point it enables more people to be connected and join the internet revolution."
Schok mini is the first of many Schok Tablets and Smartphones to be launched during 2017. In Puerto Rico, Schok is honored to share that their exclusive launch partner is Sam's club and beginning on Saturday, September 24th consumers will be able to play and purchase the "first edition" Schok mini Tablet that comes with a power bundle that includes; wall & car charger, protective case, display film protectors and a 4ft sync + charge cable, as about to be expected in Schok unique DNA all accessories are also transparent. Schok mini introductory price is set at a very aggressive price point of $119 dollars.
Schok mini – The most powerful tablet in its class.
Full Press kit link in both English and Spanish: https://www.dropbox.com/sh/yopkugjplyn1lpw/AAD6w1yrnYWpfyhf7qgkeSjza?dl=0
About Schok LLC: Schok is a Dallas, Texas based high impact, striking design, consumer Electronics Company that develops and distributes powerful Android Tablets and Smartphones.
Schok – The Power of being Transparent!