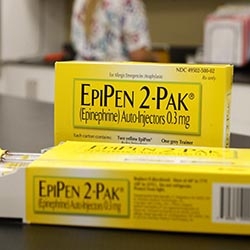 Lewes, DE, September 23, 2016 --(
PR.com
)-- Following the recent uproar about Mylan, licensed manufacturer of EpiPen® products, a consortium of Lloyd's names and reinsurance professionals have decided to offer a cost effective option to replace a used EpiPen®.
Via the website
EpiPenIns
, a replacement service (or financial compensation) is available in line with any health insurance company.
Without a doubt, EpiPen® and its product range are in the spotlight, being its unscrupulous pricing, to government links and questionable financial transactions – or users who simply have to keep themselves or a family member alive.
Ultimately, regardless of political issues, Congressional hearings, unusual pricing and profit strategies, potential illegalities and unexpected new product launches - EpiPen® is a life saver.
One can argue that share prices and profits need to be kept high, keeping pension plans and profit schemes at the expected levels. However, there comes a point where social responsibility overtakes – ensuring that allergy sufferers, however rich or poor, have the adequate medical care – which is available through EpiPen® products.
Compensation is cleared and provided on a membership basis, but given the backgrounds of the website owners, a new and dedicated health insurance company is being formed.
Early indicators show that the membership scheme is well received all over the world, to the degree that professionals and allergy groups are recommending it.
The membership scheme is not run by an insurance company, still - the service is second to none – with replacements reaching patients within 48 hours or less. Given that the membership fees are more than reasonable, it is hardly surprising that EpiPen® users take up, a so far unavailable option, to have at least 4 replacements of EpiPen® per year. VIP membership includes out-of-date replacement, too. Great for users and will equally shake up the financial model of all companies involved.
Finally, financial brokers and market makers will be keen to watch government and relevant department's reactions, bearing in mind that the manufacturing cost of saving a life is a few $ per EpiPen® - at a profit up to $300 each – up to $600. Initiatives, memberships for niche platforms and new alternative manufacturers are on the rise – and will be hard to stop or even control.
Frequently asked questions are answered via the website.