STATIC™ – New Video Broadcast Series Uncovering "The Good, The Bad and the Ugly" of Nutritional Products
Virun® Nutra-BioSciences® Creates New Series of Video Broadcasts Called STATIC, Focusing on Nutrition Found in Finished Products.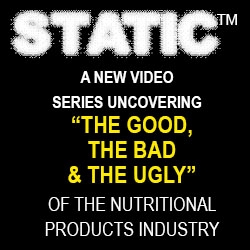 Pomona, CA, September 27, 2016 --(
PR.com
)-- STATIC™ is a series of video broadcasts produced by Virun® Nutra-BioSciences® to boost the use of better ingredients into products by showcasing innovations within the food, beverage, supplement and pharmaceutical markets.
"We wanted to debunk oversaturated crappy products marketed as healthy that have become mainstream. Products are overly hyped with marketing by companies that have lost their ability to innovate. Now they solely rely on acquisition because it is easier to buy what others create than invent it themselves," said Philip Bromley, CEO of Virun. "STATIC is here to help consumers and developers understand what truly healthy and innovative products are in the market today."
The gist behind STATIC surrounds main-stream ads and big-money persuasion. Cool marketing attracts the uninformed and tricks people into buying their products. For instance, Joe Camel was a cartoon character marketing cigarettes as cool to adolescents. Joe disappeared after the cigarette company settled out of court and agreed to replace Joe. Much like the agency who sued about Joe Camel in the 90's, STATIC is here to unveil the static noise and reveal the truth behind the mask.
STATIC's inspiration came from the alternative band, Green Day and the television show VICE. It was Green Day's song Static Age which has lyrics that allude to nothing being original such as the phrases, "Slogans on the brink of corruption" and "Coca-Cola execution" (Green Day, 2009, track 15). Combined with VICE's undercover and raw reporting is what Virun wants to convey with STATIC but in a fun way for the nutrition and health markets.
The first STATIC video was released on
Virun's YouTube Channel
and BevNet.com on Sep. 26, 2016. The first video called Grocery Store lnvasion shows the Virun team undercover at a large grocery chain taking a closer look at beverages and their labels.
About Virun Nutra-BioSciences®:
Founded in 2003, Virun Nutra-BioSciences® was formed to create nutritious, great tasting and novel formulations for the food, beverage, supplement and pharmaceutical industries. Located in Pomona, California, Virun is a fully integrated research, production and manufacturing facility, which quickly conceptualizes ideas to create innovative custom bulk blends and finished products for contract manufacturing. Virun is the only biotechnology company that owns over 80 patents worldwide and develops technology around biochemistry practices. The company came to notoriety with its Esolv® OmegaH2O® technology that incorporates omega-3 EPA DHA into clear, shelf stable beverages without a fishy taste all-the-while using their clean label claim emulsifier, Esolv®. VIRUN's other innovative solutions and brands include resveratrol, CoQ10 branded as Esolv® CoenzymeClear®, Esolv® AstaxH2O®, PQQ branded as Esolv® PQQwater®, Esolv® lutein, Esolv® phytosterols, and Esolv® curcumin.
For more information, visit Virun.com.
References
Grimaldi, A. (Producer), & Leone, S. (Director). (1966). The Good, the Bad and the Ugly [Motion picture]. United States: Twentieth Century Fox Home Entertainment LLC.
Green Day (2009). Static Age on 21st Century Breakdown [CD]. Burbank, CA: Reprise Records.
Contact
Virun, Inc.
Julia Boyd
440-263-9893
www.virun.com
innovate.today@virun.com

Contact