Mamma Mia Movie Star Wins Award for Action Short
Philip Michael is gaining very strong credibility both as an action Star and Fight Coordinator. With his first self action/stunt coordination where he also plays the outstanding superstar, he is making incredible leaps in the industry. This release is just one indication as he wins Best African American for Control. Written and directed by N.G. Bristow.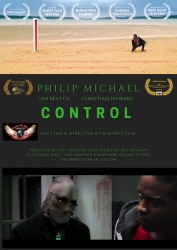 Los Angeles, CA, September 28, 2016 --(
PR.com
)-- Philip Michael, from famous work as Pepper in Mamma Mia alongside Meryl Streep and Christine Baranski, has won a prestigious Award of Merit from The Best Shorts Film Competition. The award was given for Philip Michael's exciting Action Thriller, Control, which was to showcase his dynamic physical ability and the potential of a new action franchise. Control features exceptional performances from Philip, and Christian Howard from Streetfighter Assassins fist, a marvelous storytelling with a unique storyline, lovely industrial locations in Belfast Northern Ireland and remarkable sound score that brings a mechanical grim atmosphere.
"It is as a mash-up between The Matrix and Shameless!" - N.G. Bristow
The Best Shorts Competition recognizes film, television, videography and new media professionals who demonstrate exceptional achievement in craft and creativity, and those who produce standout entertainment or contribute to profound social change. Entries are judged by highly qualified professionals in the film and television industry.
www.philip-michael.com
In winning a Best Shorts Award, Philip Michael joins the ranks of other high-profile winners of this internationally respected award including The Weinstein Company for Market Hours, Disney Interactive for Vinlymation: A Love Story and Oscar winning production Mr. Hublot from Laurent Witz from Luxembourg. Rick Prickett, who chairs The Best Shorts Competition, had this to say about the latest winners, "Best Shorts is not an easy award to win. Entries are received from around the world from powerhouse companies to remarkable new talent. The Best Shorts Competition helps set the standard for craft and creativity. The judges were pleased with the exceptional high quality of entries. The goal of Best Shorts is to help winners achieve the recognition they deserve."
Keep an open eye out for Philip Michael as he has also started incredible work for his fan based series. Star Wars: Exile.
Other notable award winning work: Legend of the Mantamaji by Eric Dean Seaton. He plays the action star of this phenomenal work.
About The Work: Elijah Alexander, New York's hottest, cockiest, and most media-hungry assistant district attorney, is about to learn something shocking: he is not even human. He's the last of the Mantamaji, a long-lost race of warriors who once protected humanity when the world was young. Now another Mantamaji, the worst of all their kind, has reawakened to visit doom on all of humanity. Can Elijah accept his past, reject his present life, and learn about his talents, in time to defeat the villain who killed all the other Mantamaji before him? "Legend of the Mantamaji" is a three-book graphic novel series whose sweeping tale of magic and mystery, heroes and villains, has a fresh look, a modern setting and an ancient beat.
Contact
Archangel Entertainment
Philip Michael
3236399646
philip-michael.com

Contact