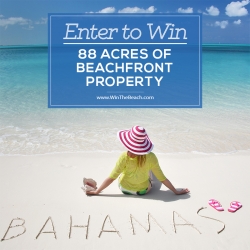 Nassau, Bahamas, The, September 29, 2016 --(
PR.com
)-- The property has a unique cove shoreline for boat shelter, utility access including electric, cable phone & internet. New owner will also receive the financial benefits of no state income taxes, no capital gains taxes, and is an open zoning property. With its own calm sea, surrounded by charming islands, the Abaco Islands are known as one of the world's top boating and sailing destinations. Treasure Cay Beach, Marina & Golf Resort Hotel is six miles away, and the Treasure Cay Airport is just five miles from the property. Nearby Harbour View Marina offers slips for both large and small boats, and there are two dive shops less than 15 miles away. Treasure Cay is home of the annual Bahamas Billfish Championship, and area is the perfect place to test your prowess at bonefishing.
The drawing will be held on January 16, 2017 at Paradise Islands, Bahamas and will be using a random picker site (RandomPicker.com) to select a winning ticket number. The drawing will be conducted live with a Bohemian member of Parliament, or a Bohemian attorney to confirm the process is impartial.
WinTheBeach.com offers three different image packages - one image with one free raffle ticket for $49, three images with three free raffle tickets for $129, and five images with five free raffle tickets for $199. If threshold of 60,000 image sales is reached by the time of the drawing, the process of transferring the 88 acre beachfront property to the winner will begin. If threshold is not reached, winner will receive one half of the image sale revenue.
To find out more about how this raffle works, please review the "How it Works" page at:
https://www.winthebeach.com/how-it-works/
.