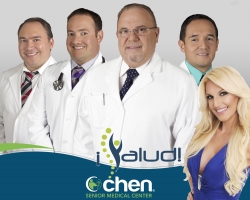 Miami, FL, October 20, 2016 --(
PR.com
)-- Jenny Patrizia, nutritionist and TV/Radio host, is revolutionizing the way Latinos view the medical field by creating the first Hispanic 'Doctors' TV show where Patrizia invites top doctors in the Latino medical field and through an interactive, informative yet entertaining interview show format, the show ¡Salud! addresses the viewer's everyday health concerns. Special celebrity guests who themselves have faced some of the health concerns discussed on the show, are invited to share their story, adding a little of glamour to the medical field.
A Joint Pew Hispanic Center and Robert Wood Johnson Foundation Research Report has found that Latinos are the racial and ethnic group least likely to visit the doctor. More than one-fourth of Latino adults in the United States lack a usual healthcare provider and almost half of Latinos never visit a medical professional during the course of the year. Other reports show that Latinos are more likely than members of other groups to delay healthcare for an illness or drop out of treatment when symptoms disappear.
"¡Salud! con Jenny Patrizia" has partnered up with iconic Hispanic actor, Victor Camara, of Vioss® Cámara Productions, a production company dedicated to produce HD content with the commitment of experienced and talented professional crew and state-of-the-art technology equipment. In fact, ¡Salud! is the first TV show of its kind to have created a virtual, digital cooking segment using Vioss Vision's technology and LED touch screen.
The doctors (Dr. Carlos Trejos, Dr. Ernesto Manzano, Dr. Junior Macias and Dr. Efrain Martinez) that were featured on the first few shows are part of Chen Senior Medical Center, a medical center who also shared the vision with Patrizia of the many great benefits a doctors and health TV show such as "¡Salud! can bring to the Hispanic community. ¡Salud! goal is to awaken the Hispanic community and encourage them to take a more active role in their well-being and live a healthier lifestyle.
Chen Senior Medical Center Executives (Groverth Cabezas, Jonathan Kirkman, Sinjulee Carrion and Juan Carlos Sanchez) hope that more and more Hispanic individuals will reach out and seek out the medical care they need.
Former NFL player Mikhael Ricks, actor and singer Hector Fuentes, immigration attorney/TV personality Mayra Joli and Colombian Singing sensation Lowe Leon all shared their own personal experiences relating to each of the show's health topics, helping launch the first few shows to be aired in December 2016/January 2017 on the popular TV station, Mega TV!