New Music Video About the Election is Released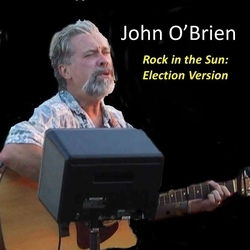 Saint Augustine, FL, October 21, 2016 --(
PR.com
)-- A new music video "Rock in the Sun: Election Version" has been released by the artist John O'Brien playing with the band Observatory. The music video focuses on the difficulties of dealing with the 2016 presidential election. The theme is that we must end the fighting and the hate that is arising in our society as a result of the disparaging political campaigns that have been put forward. Also, the underlying tension that is being felt in our society in many ways has become overwhelming. The divide between segments of our society has widened and, in many cases, become violent.
The video portrays in its initial segments the fighting that goes on between the elements of our society and how out of control things have become. As the video moves forward, examples of how the hate and fighting has manifested in society are graphically displayed. During the musical guitar solo, the types of catastrophes that may happen if we do not rectify the divisions and animosity that has arisen in our society are shown including war, planetary collisions, and the effects of climate change.
The last part of the video sees the nation "from New York to the Dock on the Bay, from Key West Island to North Maine" and pleads for our people and our politicians to "stand taller" and begin to heal the nation and provide a positive emotional force going forward. The end of the video concludes that we must all be together, hug each other including "Black lives and police," and love each other so that we can enjoy the wonderful country we live in and the beautiful people that we live with.
The music video can be accessed at:
youtu.be/KCo-0XSuDq4
About John O'Brien:
John lives in Saint Augustine Beach, Florida and is a frequent performer in the music venues there. He has been performing since he was a young child and moved from New York 12 years ago where he had a thriving musical performing history. A year ago he released his latest CD "My Revelation" which has been well received. The CD Includes ten original songs that were recorded primarily throughout the New York City area in several different recording studios. His website is:
www.johnobriensmusic.com
Contact:
John O'Brien
516-695-7098
Contact
John O'Brien Entertainment
John O'Brien
516-695-7098
johnobriensmusic.com

Contact