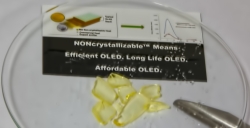 Rochester, NY, October 25, 2016 --(
PR.com
)-- Molecular Glasses, Inc. has filed for patent protection for its isomeric and asymmetric molecular glass mixtures for OLED and other organic electronic devices and photonics applications.
The filing converts prior provisional applications into a full PCT patent filing. The new patent filing covers a new method of preparing ISOmeric™ molecular glass mixture compositions. These novel molecular glass mixtures are also asymmetric. The components of isomeric molecular glass mixtures have similar vapor pressure and can be coated by the traditional thermal evaporation process without material fractionation. But these molecular glass mixtures are also non-crystallizable, very soluble in organic solvents, including green solvents. Thus they can be coated by solution processes, such as inkjet printing, slot die, spin coating, gravure and other coating techniques.
"We continue to innovate in this space notes Mike Molaire, CEO and Founder of Molecular Glasses. In the past six months we have filed 10 international patents. Our HIentropy™ host materials increase OLED device lifetime by 6 to 18X and external quantum efficiency by 25%. Our materials will help increase cell phone battery life by 40% and lower display manufacturing cost by 25%."
"There are two recognized classes of OLED materials today: 'Small Molecule OLED' and 'Polymer OLED.' We have invented a new class: 'NONcrystallizable™ OLED' that bridges the gap between the two.
About Molecular Glasses, Inc.
Molecular Glasses, Inc. is a supplier of patent pending materials to Original Equipment Manufacturers (OEMs) of Organic Light Emitting Diodes (OLED) for use in displays (cell phones and tablets for example, and specialty lighting. These materials will enable OEMs to produce OLEDs with longer device life, higher light output, lower power consumption, and reduced manufacturing costs. This new class of materials is fully compatible with both the current thermal/vacuum deposition manufacturing processes and the emerging printing manufacturing processes (ink-jet, roll-to-roll, etc.). Molecular Glasses will derive revenue both from the licensing of patents and the sale of materials. www.molecularglasses.com
Molecular Glasses™, NONcrystallizable™, Molaicular™, Molaicular Inside™, ISOmeric™, HIentropy™, SurfaceJET™ are trademarks of Molecular Glasses, Inc.