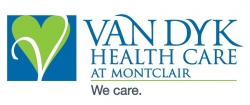 Montclair, NJ, October 30, 2016 --(
PR.com
)-- Van Dyk Health Care hosts the 8th Annual "Moonlight Trail tonight from 7pm to 9:30pm. The Moonlight Trail, located at 42 North Mountain Avenue, is the largest and most festive family friendly attraction in the area.
"It's truly incredible to witness the turnout at The Moonlight Trail," said Jackie Cousins, Administrator at Van Dyk Healthcare in Montclair which provides post-acute care, physical rehabilitation and long-term care services. "It's a testament to the families in our community who help us raise funds and awareness for those in need. And we have a great deal of fun."
The Van Dyk Health Care staff takes an active role each year in organizing the Moonlight Trail event, which features over 2,000 pumpkins and hundreds of creative Halloween displays throughout the property. Joining the Van Dyk team to set up this year's event, which takes over a month of on-site preparation, will be students from Montclair University as they prepare to welcome a record turnout of guests.
"Putting this event together is the half the fun," Cousins said. "The fact that our entire community eagerly awaits and supports this spectacle motivates us to plan every detail with great precision. Our staff loves to be part of this event, and it brings us closer to every family who joins us at Moonlight Trail."
Returning as this year's entertainment for the third consecutive year will be DJ Cruz, who will be spinning the hauntingly familiar tunes of the 80's, 90's and beyond.
This event benefits Toni's Kitchen and the Human Needs Food Pantry in Montclair. Toni's Kitchen, with over 350 active volunteers, provides nutritious meals, case management full-service medical clinics, mental health services, therapeutic art workshops and education services throughout the community. The Human Needs Food Pantry provides food, clothing and other services to people in need throughout Essex County.
JRs and Sons will be on hand at Moonlight Trail to donate a percentage of his proceeds to Toni's Kitchen and the Human Needs Food Pantry.
The Moonlight Trail event is open to the general public and the admission is free. Apple cider and donuts will be served for all ages. If the event is rained out, it will be rescheduled to the following day at the same time.
About Van Dyk Health Care at Montclair
Van Dyk at Montclair is one of three distinguished facilities within the VDHC family, along with Van Dyk Ridgewood and Van Dyk Park Place. Founded in 1953, the organization has built an unsurpassed reputation for excellence in care, beginning with founder Marvin Van Dyk and continuing today with his son Robert Van Dyk and the company's dedicated staff, all of whom share a mission of finding solutions to better health and quality of life. Van Dyk Health Care offers the full continuum of care services, including post-acute, assisted living, skilled nursing and long-term chronic care, home care and memory day care. The company works closely with its partnering hospitals and physicians to ensure its short-stay patients return home quickly and safely. Learn more at vandykhealthcare.com or 973-783-9400.